DISTRIBUTING YOUR PRODUCT
Exporting Directly or Indirectly
Exporters to Canada must decide whether to export directly to an importer, distributor or retailer in Canada, or indirectly through intermediaries such as distributors, brokers and agents or trading houses. Each option has pros and cons. In general, if you are new to the Canadian market you will probably want to form a partnership with intermediaries at home or in Canada. These intermediaries are familiar with the Canadian market and for a fee will work with you to represent and sell your products to buyers in Canada. If you have more experience, you may choose to export directly to buyers, including retailers and consumers.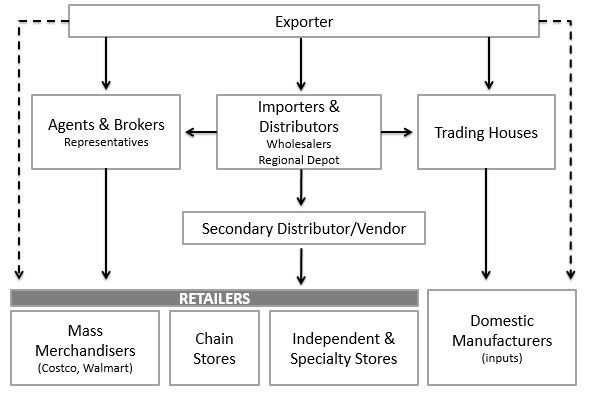 Importers and Distributors
A foreign importer or distributor is a person or company that purchases your goods and services to resell in the Canadian distribution chain. Most products are exported to Canada through an importer who either sells directly to a retailer or through a broker. The advantage of this type of intermediary is that the distributor can provide after-sales services, such as guaranteed warranties and repairs, for a fee. Keep in mind that distributors also set the selling price, which could reduce your profit margins.
Services Include:*
Guarantee warranties and repairs
Offer financing to buyers
Set the selling price
Find Contacts:
Agents and Brokers (Representatives)
You can engage an agent to enter into contractual and sales arrangements in Canada on your behalf. An agent secures orders from Canadian customers for your company in exchange for a commission. Brokers offer the same service on commission but tend to work within a specific geographic area and specific product categories. Most foods and specialty items enter Canada by way of an agent or broker who sells directly to retailers.
Services Include:
Advising on financing and transportation
Clearing customs
Collecting money
Getting access to local customers
Researching markets
Supplying you with information about local business practices, laws, and cultural traditions
Find Contacts:
Trading Houses
Trading houses are intermediaries in your country that market your goods abroad. They can be an exporter, importer or trader that buys and sell goods for other businesses. There are two types of trading houses: principal merchants or export merchants who purchase products directly from the suppliers, and agents that sell products on commission. Trading houses often specialize in a particular industry or a particular foreign market.
Services Include:
Arranging transportation
Market research
Exhibiting at trade shows
Filling out required documentation
Hiring distributors
Advertising
Find Contacts:
*Note: The services offered by each intermediary depends on the negotiated contract and incoterms used for shipment. Exporters are advised to consult an experienced trade lawyer for guidance.