Vietnam – Country Profile
General Information
| | |
| --- | --- |
| Official Name | Socialist Republic of Vietnam |
| Capital | Hanoi |
| Land Area | 331,051 sq km |
| Population | 93,5 million (2015, UN) |
| Currency | 1 $CAD = 17,241.38 Vietnamese Dong (VND) |
| National Holiday | September 2nd (National Day) |
| Language(s) | Vietnamese (Official) |
| Largest Cities | Ho Chi Minh City (8,4 million), Hanoï (7.5 million) |
Source: Economic Intelligence Unit, Bank of Canada (Currency Conversion 08/02/2017)
Political Information
| | |
| --- | --- |
| Form of State | One-Party Rule |
| Head of State | The President Tran Dai Quang |
| Elections | Last: 2016 Next:  2021 |
Source: Economic Intelligence Unit
Economic Information
| | | |
| --- | --- | --- |
| | Vietnam | Canada |
| GDP (PPP) | $782.234 billion | $2,190.6 trillion |
| GDP per capita | $ 8 373 | $60,448 |
| GDP annual growth rate | 6.1% | 1.2% |
| GDP – composition by sector | Agriculture: 48%Industry: 21%Services: 44% | Agriculture: 1.6%Industry: 27.7%Services: 70.7% |
| Inflation rate – average consumer prices | 2.8% | 1.6% |
| Main industries | Food processing, garments, shoes, machine-building, coal, mining, steel, cement, chemical fertilizers, glass, tires, oil, mobile phones. | Transportation equipment, chemicals, processed and unprocessed minerals, food products, wood and paper products, fish products, petroleum and natural gas. |
Note: 2016 data in Canadian dollars ($CAD)
Source: IMF World Economic Outlook, World Bank Data, CIA World Factbook, Bank of Canada (Currency Conversion 15/02/2017).
Political and Economic Stability
Governed by the Communist Party of Vietnam since 1975, Vietnam has known political stability for the past 40 years. Although the party still maintains a firm grip on power, thus limiting certain freedoms, recent initiatives have contributed in rendering the government more accountable in terms of policymaking and the country has made progress in protecting human rights. On the geopolitical scale, there are ongoing land disputes over certain islands in the South China Sea in between Vietnam and neighboring countries. Despite a history of isolation from the West, recent disputes with China concerning these land disputes have favored growing relations between Vietnam and the United States in recent years.
While gradually moving away from a centrally-planned economy, Vietnam has enjoyed strong and steady economic growth for the past decades. The country's GDP per capita growth is among the fastest in the world, with an average of 6.4% a year, although growth showed moderation in 2016. A gradual liberalisation of its economy and integration in the world economy has also benefited Vietnam's economic status. The country's strong participation within regional trade agreements, such as the Association of South-East Asian Nation (ASEAN), and its ratification of free trade agreements with the European Union and the Trans-Pacific Agreement (TPP) are indicative of its growing regional influence.
With a growing focus on developing export-driven industries, Vietnam is currently a growing manufacturing powerhouse in textiles, garments and technology. The country has now become the main exporter to the U.S and Canada in Southeast Asia, although the end of the Trans-Pacific Partnership (TPP) in 2017 implies that Vietnam will likely look to its Asian counterparts as future export destinations. With the country's growing young workforce and favorable state policies making it an ideal location for labour intensive industries, Vietnam will continue to attract foreign investment and grow as an exporter in the coming years.
Economic growth and social reforms have also brought about remarkable improvements in Vietnam's social indicators. The country has effectively already reached many of its Millennium Development Goals (MDG) and is on track to meeting more of them. The country's population is benefiting from better life conditions, with growth in life expectancy, education and access to electricity and clean water, along with a decrease in the maternal and child mortality rate and the poverty rate. Despite these achievements, certain issues still have to be addressed by the government, such as the high rate of extreme poverty suffered by the country's ethnic minorities and the rural poor. The country also has to address vulnerability to climate change and natural disasters that threatens its developmental and economic growth.
Security
Although there is no nationwide advisory for Vietnam, Global Affairs Canada recommends that Canadians travelling in Vietnam exercise a high degree of caution due to increasing petty crime targeting foreigners. The Public Health Agency of Canada has also recently issued a Travel Health Notice concerning the Zika virus. The Agency recommends that Canadians practice special health precautions while travelling in Vietnam and advises pregnant women and women planning to be to avoid travelling to the country. For detailed and up-to-date information on travel security, please refer to the Global Affairs Canada Travel Report for Vietnam.
Trade Information
| | | | | | | |
| --- | --- | --- | --- | --- | --- | --- |
| Trade Partners & Direction | 2011 | 2012 | 2013 | 2014 | 2015 | Average Yearly Growth |
| Vietnam to the World ($CAD Million) | 95,761 | 114,462 | 135,916 | 165,777 | 206,728 | 25% |
| Vietnam to United States ($CAD Million) | 16,769 | 19,669 | 24,572 | 31,617 | 42,713 | 35% |
| Vietnam to Canada ($CAD Million) | 1,333 | 1,618 | 2,142 | 2,832 | 4,089 | 44% |
| Canadian Exports to Vietnam ($ CAD Million) | 334 | 370 | 427 | 476 | 655 | 37% |
Note: Data in millions of Canadian dollars ($CAD)
Source: Trade Data Online (Industry Canada), Trade Map (International Trade Centre), World Integrated Trade Solution (World Bank), United States Trade Representative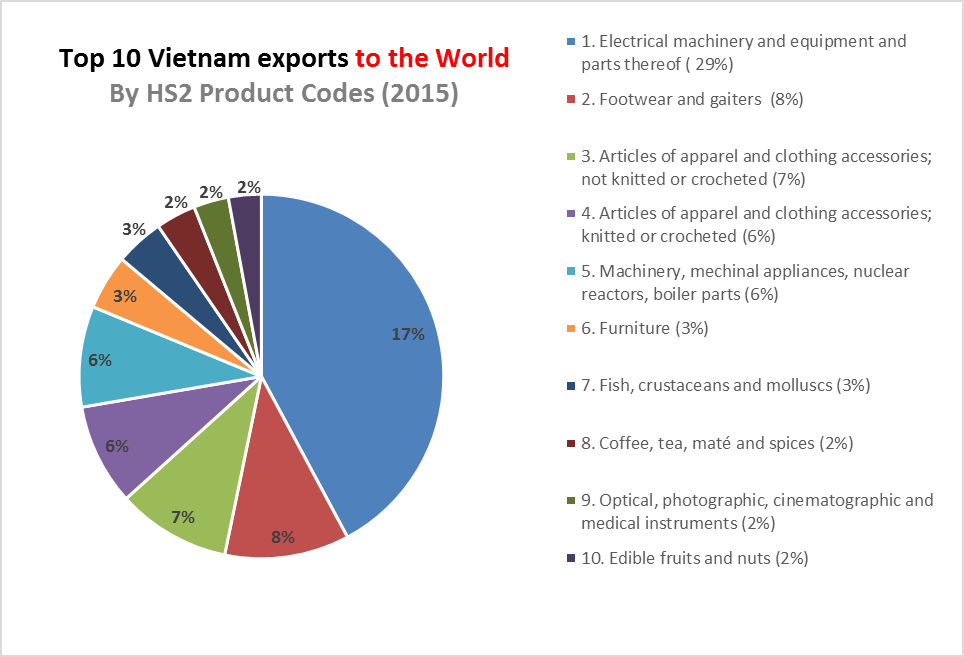 Excluding mineral products (HS2 Codes 26-27 and 71-80)
Source: International Trade Centre Trade Map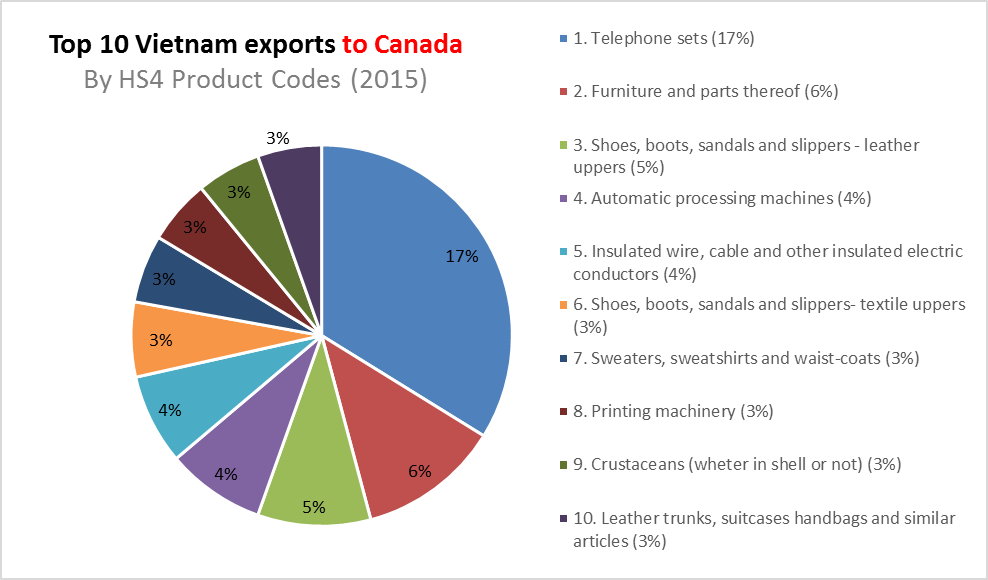 Excluding mineral products (HS2 Codes 26-27 and 71-80)
Source: Industry Canada Trade Data Online
Business Climate
The World Bank's annual Doing Business report ranks economies from 1 to 190 (with 1 being the best) on their ease of doing business. In the 2017 report, Vietnam ranked 82 overall and 93 for Trading Across Borders, which measures the ease with which a standardized shipment of goods can be imported or exported across its borders. The average time to ship goods out of Vietnam was lower than the regional average at approximately 10 days, with a low average estimated cost of $CAD 1,345 per 20-foot container. To complete the export process, only five forms of documentation are required: Bill of lading, Commercial invoice, Packing list, Customs export declaration and Technical Standard.
Although there are many reputable exporters in Vietnam, Canadian importers should be aware that corruption could be an issue when doing business in the country. Vietnam ranked 116 out of 176 in Transparency International's 2016 Corruption Perceptions Index where 1st place indicates least corrupt. Canadian companies are advised to exercise strict due diligence before working with a company from Vietnam to ensure that it is a bona fide and reputable entity. It is suggested that Canadian importers commission a report by a credit information provider to verify the financial strength of the partner.
Sustainability Initiatives
Betterday, an initiative launched in 2007 by the Vietnamese enterprise Market Development International Jsc (MDI), is the first internationally certified Fair Trade brand located in a developing country. Founded with the goal to market agricultural products according to Fair Trade principles, the organisation also seeks to promote the sustainable development of rural areas in Vietnam. Specializing in the sale of tea, cashews and coffee, Betterday works with approximately 1,000 farmers in six provinces of the country, all of whom are living below the international poverty line. Most of these farmers are also part of ethnic minorities, and many live in the most rural areas of the country. While MDI seeks to empower these individuals and their communities, participation within the brand requires them to adhere to certain principles such as gender equity, eco-friendly farming, the non-use of child labour and gender equity. With agricultural products such as tea and coffee representing an important export market for the country, the Betterday brand is helping in promoting these key principles in the industry and effectively helping marginalised and poor individuals benefit from trade opportunities with importers in developed countries.
Given Vietnam's vulnerability to climate change, various enterprises within the country are also focusing on practices that are environmentally sustainable. This has been the case with the company Quoc Viet Foods, who is one of Vietnam's leading shrimp processor and exporter. In October 2015, the company's shrimp farms became the first in Asia to be certified by the Aquaculture Stewardship Council (ASC), a leading organisation in setting standards for sustainable aquaculture. Partnering with the World Wildlife Fund (WWF) and Initiatief Duurzam Handel (IDH), Quoc Viet Foods obtained this certification through its efforts in reducing the environmental impact of their operations. Meeting the ASC's certification standard implies that its shrimp farms are ensuring the sustainable use of water and feed, addressing biodiversity issues and contributing in preserving wetlands and mangroves. Initiative such as these are of much significance in Vietnam, especially considering that aquaculture represents an important export market for the country and that Vietnam is the third biggest shrimp exporter in the world.
Trade Opportunities
With the Vietnamese government's efforts in integrating itself into the world economy and developing its export-driven industries, the country has become one of the leading exporters in clothing, footwear and most recently, electrical and electronic machinery and parts. On the international scale, although the US represents the country's current main export market, the recent American exit from the Trans-Pacific Partnership (TPP) in 2017 will force the country to turn to other countries as trade partners. As of 2016, Vietnam is Canada's 5th biggest exporter in Asia, and trade between the two countries has significantly grown over the last decade. With Vietnamese exports to Canada reaching approximately CAD $4.8 billion in 2016, signalling an increase of 17% from 2015, Canada is among Vietnam's 22 largest export markets. While the main exports from Vietnam are still clothing and furniture, other industries such as seafood and electrical and electronic machinery & parts are currently gaining more importance as export markets to Canada.
Clothing, Footwear & apparel
One of the country's most important exports are from its garment and textiles industry, which represents about 25% of its exports to Canada. While total exports to Canada reached CAD $787 million in 2015, most exports from this industry go towards the US and other Asian countries such as Japan and Korea. The industry currently employs 2.2 million people in Vietnam, thus making among the top employing sectors in the country, and some of the main exports of this industry to Canada are sweaters, shirts and coats. Its textiles industry is also benefiting from many advantages over international competitors, such as preferential policies from the government and the fact that only small investment capital is required. Looking towards the future, the numerous trade agreements such as the Vietnam-Korea Free Trade Agreement (VKFTA) and the Vietnam-EU Free Trade Agreement (EVFTA), will make Vietnamese businesses in the industry even more competitive on the global market and exports are set to reach more than CAD $26 billion by 2020.
One area where Vietnam has found significant success is in its footwear industry. With its impressive manufacturing capacities, Vietnam exported approximately CAD $15.5 billion worth of footwear in 2015, including CAD $286 million to Canada. With an impressive track record in producing footwear products such as sandals, sneakers and quality leather footwear, Vietnam is benefiting from recent reforms in production in local firms, which is contributing in increasing productivity and the quality of products. The footwear industry alone represents the fourth biggest export to Canada and Vietnam is currently the second most significant exporter of footwear to the Canadian market.
Seafood
Although the manufacturing sector produces the large part of Vietnam's exports to Canada, the country's seafood industry stands out as an important commodity. The country's seafood industry represented its seventh biggest export on the global market in 2015 and with new international free trade deals in place, seafood exports were expected to reach CAD $9 billion in 2016. Vietnam's fish, crustaceans and mollusks products represent its seventh biggest export to Canada, and Vietnam is Canada's third biggest source of seafood products in the world. More specifically, some of the main exported products are crustaceans such as crab, lobster and shrimp as well as fish fillets and frozen fish. A good example of the growing importance of this sector can be seen with Tuna, of which exports to Canada have grown significantly over the last 5 years. Along with the Philippines and Thailand, Vietnam is one of the biggest tuna exporters to Canada and it is important to note that Canada accounts for 80% of Vietnam's total tuna exports in the world.
Electrical devices & parts
Vietnam's most emerging sector is undoubtedly its electrical, electronic machinery, equipment and parts industry. With a growing amount of young and skilled workers, low costs and favorable market conditions, Vietnam is becoming one of the main attractive destinations for companies that produce consumable electronics. It is also currently rivaling some countries such as China and South Korea, who have been historically considered the global leaders in exporting technological products. In 2015, Canadian imports in electrical and electronic machinery and parts to from Vietnam reached approximately CAD $1 billion, signaling a growth rate of 62% from 2011 to 2015. The main exported products to the Canadian market were telephones, mobile phones and insulated cables and wires. With technology being an industry on the rise, this emerging sector of Vietnam's economy will surely generate more trade opportunities in between the two countries.
TFO Canada Export Offers
TFO Canada provides an information service for Canadian importers interested in sourcing products from developing and emerging economies such as Vietnam. This includes practical advice on sourcing from developing country exporters, a customized news bulletin including new leads from Vietnam as they come in, and a searchable database for sourcing new products and suppliers. The chart below provides a rough idea of the number of supplier profiles from Vietnam, available online with contact information through TFO Canada's searchable Supplier Database.
| | |
| --- | --- |
| Industry Group | No. of Suppliers in TFO Canada Database |
| Food Products and Beverages (including Seafood) | 15 |
| Furniture (Indoor and Outdoor) | 9 |
| Building Materials, Hardware and Handtools | 2 |
| Home Décor, Giftware and Crafts | 3 |
| Industrial Goods, Machinery, Parts and Raw Materials | 3 |
| Footwear | 2 |
| Clothing (not including Footwear) | 4 |
| Chemicals, Minerals and Allied Products | 1 |
| Electronics, Electrical and Telecommunications | 1 |
Vietnam International Furniture & Home Accessories Fair (VIFA-EXPO)
March, annually
Saigon Exhibition & Convention Center, Ho Chi Minh City
Industry: Housewares & Hardware
https://vifaexpo.wordpress.com/
Vietnam International Trade Fair (Vietnam Expo)
April, annually
Hanoi International Exhibition Center, Hanoi
Industry: Food Products and Beverages, Electronics, Electrical and Telecommunications, Industrial Goods, Machinery, Parts and Raw Materials
http://vietnamexpo.com.vn/en
Vietnam Medi-Pharm Expo – Ho Chi Minh City
August, annually
Saigon Exhibition & Convention Center, Ho Chi Minh City
Industry: Medical Supplies
http://hcm.medipharmexpo.com/en
Vietfood and Beverage 2017/Propack Vietnam 2017 – Ho Chi Minh City
August, annually
Saigon Exhibition & Convention Center, Ho Chi Minh City
Industry: Food Products & Beverages
http://hcm.foodexvietnam.com/en/
Vietfood and Beverage/Propack Vietnam  – Hanoi
November, annually
Hanoi International Exhibition Center, Hanoi
Industry: Food Product & Beverages
http://hn.foodexvietnam.com/en#
Vietnam International Bicycle Exhibition
November, annually
Hanoi International Exhibition Center, Hanoi
Industry: Bicycles
http://vietnamcycle.vn/en
Vietnam International Trade Fair – Ho Chi Minh City
December, annually
Saigon Exhibition & Convention Center, Ho Chi Minh City
Industry: Food Products and Beverages, Electronics, Electrical and Telecommunications, Industrial Goods, Machinery, Parts and Raw Materials
http://hcm.vietnamexpo.com.vn/en
Vietnam Medi-Pharm Expo – Hanoi
December, annually
Hanoi International Exhibition Center, Hanoi
Industry:  Medical Supplies
http://hn.medipharmexpo.com/en
Vietnam International Hardware & Hand Tools Expo
December, annually
Saigon Exhibition & Convention Center
Industry: Building Materials, Hardware & Handtools
http://hardwaretools.com.vn/en/d/vietnam-hardware-and-hand-tools-expo-2017
Contact Information
Vietnam Trade Promotion Agency
20 Ly Thuong Kiet, Ba Dihn District, Hanoi
Tel: (84) (4) 393-476-28
Email: [email protected]
Canada-Vietnam Trade Council
2 Bloor Street West, Suite 700, Toronto, ON
Tel: (416) 305-8384
Email: [email protected]
Embassy of Vietnam
55 MacKay St, Ottawa, ON
Tel: (613) 236-0772
Email: [email protected]
Consulate of Vietnam
#800-605 Robson St, Vancouver, B.C.
Tel: 1-604-629-0189
Email: [email protected]