General Information
Official Name: Republic of Peru
Capital: Lima
Total Area: 1,285,216 sq km
Population (in thousands): 29,849
Currency: 1 CAD = 2.7 Peru Nuevos Soles (PEN)(2013)
National Holiday: 28 July (1821)
Languages: Spanish (official), Quechua (official), Aymara (official), Ashaninka and a large number of other native languages.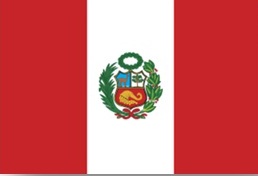 Political Information
Type of State: Constitutional Republic
Head of State: President Ollanta Humala Tasso
Head of Government: Caesar Villanueva Arevalo
First Vice President: Marisol Espinoza Cruz
Elections: Last – 10 April 2011 Next – April 2016
Economic Information
Peru
Canada
GDP (PPP)
$332 billion
$1.513 trillion
GDP per capita
$10,900
$43,400
GDP annual growth rate
6.3%
1.8%
GDP – composition by sector
Agriculture: 6.4%

Industry: 36.3%

Services: 57.3%

Agriculture: 1.7%

Industry: 28.5%

Services: 69.8%

Unemployment Rate
6.8%
7.3%
Poverty Level
27.8%
4.9% (2004 data from the Fraser Institute)
Inflation Rate (Consumer prices)
3.7%
1.5%
Main Industries
Mining and refining of minerals; steel, metal fabrication; petroleum extraction and refining, natural gas and natural gas liquefaction; fishing and fish processing, cement, glass, textiles, clothing, food processing, beer, soft drinks, rubber, machinery, electrical machinery, chemicals, furniture.
Transportation equipment, chemicals, processed and unprocessed minerals, food products, wood and paper products, fish products, petroleum and natural gas.
Note: 2012 data in $USD dollars unless otherwise indicated
Political and Economic Stability
The Peruvian economy experienced rapid growth in the past decade, due mainly to its mining industry. Although this growth has slowed slightly in 2013, domestic demand and public and private investment are expected to continue trending upwards, supporting future economic growth. President Ollanta Humala assumed office in July 2011, with a vision of maintaining macroeconomic policies and strong economic growth with an emphasis on improving equity. However, President Humala is experiencing opposition from all sides, including his own left-wing party, as he implements his centrist, pro-business policies. Nevertheless, public accounts are in surplus, and public debt is low.
Canada and Peru have a well-established growing investment and trade relationship; the Peru-Canada Free Trade Agreement came into effect in August, 2009. Canada and Peru have also signed a Foreign Investment Promotion and Protection Agreement (FIPA), which provides increased protection and predictability for Canadian investors and their investments in Peru. Peru is Canada's 2nd largest bilateral trading partner in South and Central America.
In terms of security, Foreign Affairs, Trade and Development Canada (DFATD) recommends that Canadians exercise caution when traveling in Peru and that certain regions be avoided altogether. For detailed and up-to-date information on travel security, please refer to the DFATD Travel Report for Peru: www.travel.gc.ca/destinations/peru
Trade Information
| | | | | | | |
| --- | --- | --- | --- | --- | --- | --- |
| Trade Partners & Direction of Trade Flow | 2008 | 2009 | 2010 | 2011 | 2012 | Average Yearly Growth |
| Peruvian Exports to World | 31,288,212 | 26,738,260 | 35,205,068 | 45,636,085 | 45,228,600 | 11.5% |
| Peruvian Exports to United States | 5,835,264 | 4,603,773 | 5,826,308 | 6,083,871 | 6,073,218 | 2.4% |
| Peruvian Exports to Canada | 1,949,884 | 2,310,897 | 3,329,049 | 4,176,317 | 3,358,614 | 17.1% |
| Canadian Exports to Peru | 380,734 | 426,961 | 476,446 | 516,426 | 536,329 | 9.0% |
Note: Value in thousands of Canadian dollars
Source: Statistics Canada and the International Trade Centre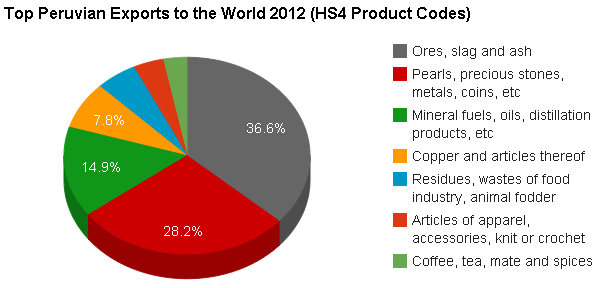 Source : International Trade Centre 2012
Source : Industry Canada – Trade Data Online 2012
The World Bank's annual Doing Business report ranks economies from 1 to 189 (with 1 being the best) on their ease of doing business. In the 2013 report, Peru ranked 43rd overall and 60th in terms of the ease with which a standardized shipment of goods can be imported or exported across its borders. The estimated average time required to ship goods out of Peru is approximately 12 days, with an average estimated cost of 890 USD per 20-foot container. To complete the export process, 6 forms of documentation are required: a packing list, a bill of lading, a commercial invoice, a certificate of origin, a customs export declaration, and terminal handling receipts.
Although there are many reputable exporters in Peru, Canadian importers should be aware that corruption can be an issue when doing business. Peru ranked 83rd out of 176 in Transparency International's 2012 Corruption Perceptions Index where 1st place indicates least corrupt.  Canadian companies are advised to exercise due diligence before working with a Peruvian company to ensure that it is a bona fide and reputable entity. To inquire about a specific company or for further information on this issue, please contact the Embassy of Peru in Ottawa at (613) 233-2721.
Trade Opportunities
Peru's exports are highly concentrated in natural resources, with the sale of commodities such as lead ore, copper, gold, zinc, silver, crude petroleum and petroleum products largely dominating the country's export revenues. Nonetheless, Peru has numerous other product varieties to offer North American markets. Reflective of the strong bilateral relations between the two trade partners, Canada is Peru's fourth most important export destination.
One of Peru's largest exports to Canada in terms of value is non-roasted coffee. Varieties include Tipica, Caturra, Catimor, and Bourbon. Peruvian agricultural producers specialize in the production of many other export products including fresh and chilled asparagus, artichokes, peppers, organic bananas, tomatoes, potatoes, mandarin oranges, other citrus fruits, grapes, beans, peas, onions, mango, and avocado. A variety of other frozen and preserved produce is also available for export, as are organic variations of all produce. For details on Peru's agricultural products, visit the Ministry of External Commerce of Peru at: www.siicex.gob.pe/siicex/resources/sectoresproductivos/Catalogo%20Agro.pdf
In recent years, exports of Peruvian cacao products have been growing exponentially. Peru specializes in high quality cacao varieties, namely Trinitario, Forastero, and Criollo, as well as the rarer Porcelana and Chuncho. The most popular forms of cacao product exports are chocolate, cocoa powders, butters, and pastes, and cacao beans. Organic cacao farming is booming in Peru; it is currently the world's second largest exporter of organic cacao.
The textile sector in Peru has the most promising prospects for growth; the demand for Peruvian-made clothing and apparel has been increasing dramatically in recent years. The country's pima and tanguis cottons are widely popular and of excellent quality – Peru's woven and knitted cotton clothing is sold to many globally recognized brands. Apparel made from luxurious alpaca fleece is in demand in growing niche markets.
Peru's talented artisans also make use of an extensive selection of natural materials including wood, leather, ceramic, and a variety of natural fibres to craft home décor items and accessories, household textiles, and furniture.
With over 2,000 species of fish swimming off its coast, Peru has one of the largest fishing industries in the world. A range of frozen and preserved fish and seafood is available to Canadian businesses, including species such as: trout, scallops, Peruvian anchovy, squid, king prawns, Mahi-Mahi, Peruvian Pacific sardine, mackerel, smelt, tuna, eel, and shrimp.
TFO Canada Export Offers
TFO Canada provides an information service for Canadian importers interested in sourcing products from developing and emerging economies such as Peru.  This includes practical advice on sourcing from developing country exporters, a customized news bulletin, and a searchable database for sourcing new products or suppliers. The chart below provides a rough idea of the number of Peruvian supplier profiles available in the TFO Canada database.  To access supplier profiles and their contact information, please visit TFO Canada's searchable Supplier Database.
| | |
| --- | --- |
| Industry Group | No.of Suppliers in TFO Canada Database |
| Food Products and Beverages (incl. Seafood) | 73 |
| Clothing (not including footwear) | 23 |
| Textiles | 19 |
| Home Décor, Giftware and Crafts | 11 |
| Fashion Accessories | 10 |
| Industrial Goods, Machinery, Parts and Raw Materials | 4 |
| Personal Care, Pharmaceuticals and Natural Health Products | 4 |
| Footwear | 3 |
| Furniture (Indoor & Outdoor) | 2 |
| Chemicals, Minerals and Allied Products | 1 |
| Floriculture | 1 |
| Office and Other Professional Supplies | 1 |
| Automotive and Accessories | 1 |
Upcoming Trade Shows
Peru Gift Show
09-11 April, 2014
The largest handmade gift and home accessories trade show in Peru
Jockey Plaza Convention Center, Lima, Peru
www.perugiftshow.com.pe
Expoalimentaria Peru
27-29 August, 2014
The largest international trade show in the region that highlights food and beverages, machinery, equipment, inputs, containers and packaging, services, restaurants, and gastronomy.
Las Palmas Air Base, Lima, Peru
www.expoalimentariaperu.com
Expotextil Peru
23-26 October, 2014
International Fair of Suppliers from the Textile and Apparel Industry
Jockey Exhibition Centre, Lima
www.expotextilperu.com
Expo Pesca & ACUIPERU
November, 2015
Peru's Fishing and Aquaculture Show
Jockey Plaza Convention Center, Lima, Peru
www.thaiscorp.com/expopesca_new/index.html
Peru Moda
9-11 April, 2014
The largest presentation of ready-made apparel, footwear, and jewelry from Peru.
TBA, Peru
www.perumoda.com
Expo Plast Peru
7-10 May, 2014
International Plastic Industry Fair
Jockey Exposition Centre, Lima, Peru
expoplastperu.com