Nicaragua – Country Profile
General Information
| | |
| --- | --- |
| Official Name | Republic of Nicaragua |
| Capital | Managua |
| Land Area | 121,428 sq km |
| Population | 6.082 million (2015) |
| Currency | 1 $CAD = 21.99 Nicaragua Córdoba  Oro  (NIO) |
| National Holiday | September 15th (Independence Day) |
| Language(s) | Spanish (official), Miskito, and other indigenous languages |
| Largest Cities | Managua (1.4 million), Matagalpa (542,000), Chinandega (423,000) |
Source: Economist Intelligence Unit, XE Currency Converter 22/06/2016
Political Information
| | |
| --- | --- |
| Form of State | Presidential democracy, with National Assembly |
| Head of State | President Daniel Ortega |
| Elections | November 2021 presidential election ( 5-year term) |
Source: Economist Intelligence Unit
Economic Information
| | | |
| --- | --- | --- |
| | Nicaragua | Canada |
| GDP (PPP) | $ 41.921billion | $ 2.165 trillion |
| GDP per capita | $ 6,409 | $58,459 |
| GDP annual growth rate | 4.5% | 1.2% |
| GDP – composition by sector | Agriculture: 18.1%Industry: 22.9%Services: 58.9% | Agriculture: 1.6%Industry: 28.9%Services: 70.5% |
| Inflation rate – average consumer prices | 4% | 1.1% |
| Main industries | Food processing, chemicals, machinery and metal products, knit and woven apparel, petroleum refining and distribution, beverages, footwear, wood, electric wire harness manufacturing and mining | Transportation equipment, chemicals, processed and unprocessed minerals, food products, wood and paper products, fish products, petroleum and natural gas. |
Source: IMF World Economic Outlook, World Bank Data, CIA World Factbook, Bank of Canada (Currency Conversion 22/06/2016)
Note: 2015 data estimates in Canadian dollars ($CAD)
Political and Economic Stability
Harsh economic problems under Somoza's leadership led to violent opposition to governmental manipulation and corruption in 1978 which resulted in a short-lived civil war that brought the Marxist Sandinista guerrillas to power in 1979. However, under the leadership of President Daniel Ortega Saavedra, Nicaraguan aid to leftist rebels in El Salvador prompted the US to sponsor anti-Sandinista contra guerrillas through much of the 1980s. After losing free and fair elections in 1990, 1996, and 2001, former Sandinista President Daniel Ortega Saavedra was elected president in 2006 and re-elected in 2011. Nicaragua's infrastructure and economy which was hard hit by the earlier civil war and by Hurricane Mitch in 1998 – are slowly being rebuilt, but according to the CIA, democratic institutions have been weakened under the Ortega administration.
Nicaragua's growth is at par with other Latin American countries. To combat the 2008-09 global economic crisis and the rising oil and food prices, Nicaragua relied heavily on macroeconomic policies, exports and FDI which yielded great results. By 2011, growth had accelerated to reach a record 6.2%. This however, declined to 5.1% and 4.6% for 2012 and 2013, respectively. Nicaragua's GDP continued to shrink to a 3.9% in 2015, the lowest rate in the last five years. According to the IMF, the country's economic outlook remains favorable. Real GDP is projected to grow by 4.5% while annual inflation is projected at 7% in 2016 (improved from 20% in 2008).
Moreover, Nicaragua's exports have significantly increased in recent years. The country's most successful exports include gold, textiles, coffee, sugar, and beef. Much trade is conducted in Nicaragua's free trade zones or "maquila" zones. Nicaragua is a signatory to the Dominican Republic-Central America-United States Free Trade Agreement (CAFTA-DR) and the EU-Central America Association Agreement (EU-CAAA). Canada and Nicaragua have a growing trade and investment relationship. Nicaraguan exports to Canada reached a five year (2009-2013) high of $402 million in 2013.
Nicaragua's success in improving economic conditions has a shift of focus to be placed on long-term problems, such as poverty. Associations such as the International Development Association (IDA) have been helping to reach these goals.
Security
Whiles there is no nationwide advisory in effect for Nicaragua, Global Affairs Canada (GAC) recommends that Canadians exercise a high degree of caution when traveling in Nicaragua due to armed violence that is commonly used during criminal activities. Visit Travel Report for an updated details. Again, according to Public Health Agency of Canada, pregnant women and those considering becoming pregnant should avoid travel to Nicaragua due to Zika virus outbreaks. See Health for more information.
Trade Information
| | | | | | | |
| --- | --- | --- | --- | --- | --- | --- |
| Trade Partners & Direction | 2011 | 2012 | 2013 | 2014 | 2015 | Ave. Yearly Growth |
| Nicaragua Exports to the World | $ 2,281 M | $ 4,551 M | $ 4,594 M | $ 4,974 M | $ 5,050 M | 23% |
| Nicaragua Exports to United States | $ 694 M | $ 2,100 M | $ 2,079 M | $ 2,406 M | $ 2,542 M | 56% |
| Nicaragua Exports to Canada | $ 337 M | $ 400 M | $ 390 M | $ 315 M | $ 156 M | -13% |
| Canadian Exports to Nicaragua | $ 38 M | $ 46 M | $ 33 M | $ 25 M | $ 34 M | 2% |
Note: Data in thousands of Canadian dollars ($CAD)
Source: Trade Data Online (Industry Canada), Trade Map (International Trade Centre), World Integrated Trade Solution (World Bank)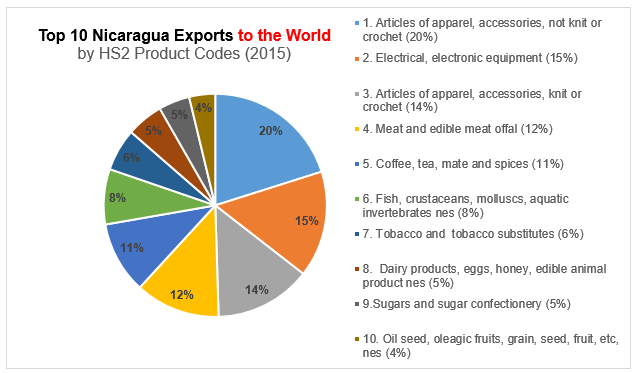 Excluding mineral products (HS2 Codes 26-27 and 71-80)
Source: International Trade Centre Trade Map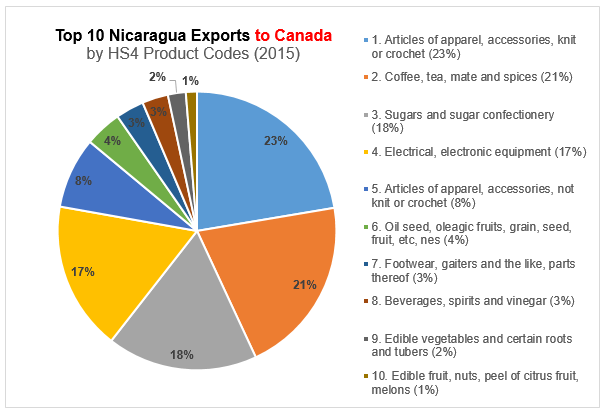 Excluding mineral products (HS2 Codes 26-27 and 71-80)
Source: Industry Canada Trade Data Online
Business Climate
The World Bank's annual Doing Business report ranks economies from 1 to 189 (with 1 being the best) on their ease of doing business. In the 2016 report, Nicaragua ranked 125 overall and 81 for Trading Across Borders, which measures the ease with which a standardized shipment of goods can be imported or exported across its borders. The average time to ship goods out of Nicaragua was lower than the regional average at approximately 21 days, with an estimated cost of $CAD 1,215 per 20-foot container. To complete the export process, ten forms of documentation are required: Bill of lading, Certificate of origin, Commercial invoice, Customs export declaration, Export License, Export Permit, Phytosanitary certificate, Road Transport Document, Terminal handling receipt, Transit Document, and Quality Certificate.
Although there are many reputable exporters in Nicaragua, Canadian importers should be aware that corruption could be an issue when doing business in the country. Nicaragua ranked 130 out of 168 in Transparency International's 2015 Corruption Perceptions Index where 1st place indicates least corrupt.  Canadian companies are advised to exercise strict due diligence before working with a company from Nicaragua to ensure that it is a bona fide and reputable entity. It is suggested that Canadian importers commission a report by a credit information provider to verify the financial strength of the partner.
Sustainability Initiatives
CECOCAFEN, also known as the Coffee Cooperatives Central Association in the Northern Regions, is a Fair Trade-certified association of more than 2,500 small-scale coffee producers in the North-Central highlands of Nicaragua. The foundation of the organization is ensuring the production of quality coffee, implementing programs for ecological practices, and offering opportunities for integrated development of their members' communities. CECOCAFEN was founded in 1997 but has grown significantly in the past couple of years with half of the members of its board of directors being women. In addition to successfully generating opportunities for women, CECOCAFEN promotes intergenerational prosperity through a number of youth initiatives, including a scholarship program for children of cooperative members. For more information, visit:  https://www.rootcapital.org/portfolio/stories/strengthening-rural-communities-nicaragua.
Trade Opportunities

There are significant opportunities for Canadian importers who wish to explore business opportunities in Nicaragua. Although its main exports to Canada are gold and silver, Nicaragua offers a variety of product opportunities for Canadian importers.
Insulated Wires & Cables
Nicaragua exports of Insulated Cables and Wires to Canada experienced a boom in 2014 reaching a record high of $32m from $26m in 2011 ($CAD). In 2015, Insulated Cables and Wires accounted for 17% of the country's total exports to Canada. The most profitable of these exports were ignition wiring sets and other wiring sets used in vehicles and aircrafts.
Clothing & Apparel
One of the country's strongest export industry is its textile and garment industry. Much of this activity is located in the maquilas operating in Nicaragua's free trade zones. While Nicaraguan exporters are mostly focused on the US market, Canadian importers have a significant opportunity to expand these previously established links, especially due to the flexibility and sourcing skills offered by Nicaraguans. As of October 2013, many popular international brands have manufacturing facilities in Nicaragua, including Target, JC Penney, Wal-Mart, Kohl's, Adidas, Under Armour, GAP, North Face, Levi's, Liz Claiborne, Wilson, Wrangler, Lee Jeans, Patagonia, Docker's, and Dickies. Canada is the 4th largest export market for Nicaraguan apparel, leading the country's total export to Canada in 2015 at 23%.
Coffee, Molasses & Ground-Nuts
Nicaragua's fertile soils and favourable climate are a boon to its agricultural industry. Coffee is the sector's most significant crop, in addition to molasses, nuts, cane sugar, sesame seeds, peanuts, and kidney beans. Canada is the 5th largest importer of Nicaragua coffee and tea.  Other fresh vegetables and fruit such as peppers, onions, yucca, cocoa, melons, and bananas offer potential for future business opportunities. There is also the possibility to expand Nicaragua's exports in beef, shrimp, lobster, and cheese.
TFO Canada Export Offers
TFO Canada provides an information service for Canadian importers interested in sourcing products from developing and emerging economies such as Nicaragua. This includes practical advice on sourcing from developing country exporters, a customized news bulletin including new leads from Nicaragua as they come in, and a searchable database for sourcing new products and suppliers. The chart below provides a rough idea of the number of supplier profiles from Nicaragua, available online with contact information through TFO Canada's searchable Supplier Database.
| | |
| --- | --- |
| Industry Group | No. of Suppliers in TFO Database |
| Food Products and Beverages (including Seafood) | 18 |
| Furniture (Indoor and Outdoor) | 1 |
Upcoming Trade Shows
EXPOAPEN 2016 (Asociación de Productores y Exportadores de Nicaragua)
September Annually
Crowne Plaza Convention Center,
Managua, Nicaragua
Industry: Agro Food (including Organic), Craft, Decor and Gift, Services, Information and Communication Technology, Tourism and Software Development.
http://expoapen.apen.org.ni/
Contact Information
Embassy of the Republic of Nicaragua
1627 New Hampshire, Ave N.W.
Washington, D.C. 20009
United States of America
Telephone: 1 (202) 939-6570
Fax: 1 (202) 939-6545
Honorary Consulate of Nicaragua
10 Lyndhurst Crescent
Whitby, ON L1S 1E2
Telephone: (+1-905) 430-0572
[email protected]