Tunisia – Country Profile
General Information
| | |
| --- | --- |
| Official Name | Republic of Tunisia |
| Capital | Tunis |
| Land Area | 162,155 sq km |
| Population | 11.3 million (2015, IMF) |
| Currency | 1 $CAD = 1.74 Tunisian dinar |
| National Holiday | March 20th (Independence Day) |
| Language(s) | Arabic, French, Berber |
| Largest Cities | Tunis (1 Million), Sfax (945,000), Sousse (622,000), Kairouan (565,000) |
Source: Economist Intelligence Unit, Bank of Canada (XE Currency Converter 07/06/2016)
Political Information
| | |
| --- | --- |
| Form of State | Parliamentary Republic |
| Head of State | President Beji Caid Essebsi |
| Elections | October 2014, next elections in 2019 |
Source: Economic Intelligence Unit
Economic Information
| | | |
| --- | --- | --- |
| | Tunisia | Canada |
| GDP (PPP) | $ 180 billion | $ 2,188 trillion |
| GDP per capita | $ 5,437 | $ 60,085 |
| GDP annual growth rate (2016) | 3% | 2.16% |
| GDP – composition by sector | Agriculture: 10.4%Industry: 28.2%Services: 61.4% (CIA World Factbook- 2015) | Agriculture: 1.6%Industry: 28.2%Services: 70.3% (CIA World Factbook- 2015) |
| Inflation rate – average consumer prices | 4.9% | 1.1% |
| Main industries | Petroleum, mining (particularly phosphate, iron ore), tourism, textiles, footwear, agribusiness, beverages (CIA World Factbook- 2015) | Transportation equipment, chemicals, processed and unprocessed minerals, food products, wood and paper products, fish products, petroleum and natural gas. (CIA World Factbook- 2015) |
Note: 2015 data in Canadian dollars ($CAD)
Source: IMF World Economic Outlook, World Bank Data, CIA World Factbook, Bank of Canada (Currency Conversion 12/14/2016)
Political and Economic Stability
Tunisia's political situation made steady progress in 2014 after the regime of Zine el-Abidine Ben Ali was overthrown in January of 2011. The country has rewritten its national constitution and voted in favour of a National Constituent Assembly (NCA) headed by a Prime Minister and President. The political transition resulted in a five-year term government in 2015. The cabinet is dominated by Hizb al-Nahda, the largest party in the NCA. This political stability meets the country's security and economic challenges which brings more stable economic growth and opportunities in trade activities.
Following Tunisia's political stability and new government established in 2015, Tunisia's economic activity remained slow with a GDP of 0.8% in 2015 compared to 2.3% in 2014. This slow economic growth is due to social tensions and terrorist attacks. The beginning of 2016 saw an improvement in the GDP and is estimated to improve to in between 2% and 3% in 2017. The Central Bank of Tunisia's robust monetary policies have also begun to slow the country's inflation rate, which fell from 4.9 percent in 2014 to 4.85 percent in 2015 and is expected to continue to decline in 2016 and 2017. Despite Tunisia's internal challenges and decreased foreign investment, the country has begun to transform its economy by targeting the promotion of agricultural, petroleum and mining exports. The country exports a wide range of products including electrical equipment, oils, textile, apparel and machinery which is destined primarily to a European market. The country has signed Free Trade Agreements with the European Union, EFTA, GAFTA and other Middle Eastern countries. Tunisia's total exports to Canada have increased by 10% from 2014 to 2015, whereas the country's total exports to all countries decreased by 1% from 2014 to 2015.
Tunisia's Bank staff projections suggest that poverty has declined from 7.6% in 2013 to 7.1% in 2015 using a poverty line of US$ 3.10. This decline in poverty is a result of the government's focus on social stability and control over inflation and the country's focus on economic development following the political transition. According to the UNESCO Institute for Statistics, total enrollment in primary education, regardless of age, was 111.3 in 2013 and had steadily increased since 2008.
Security
Global Affairs Canada recommends that Canadians exercise a high degree of caution when traveling in Tunisia due to the nationwide risk of civil unrest and terrorist attacks. In particular, the Canadian government advises against all travel to the Chaambi Mountain National Park area, the Tunisian border with Algeria and Libya, and the militarized zone in the Tatouine Governorate. For detailed and up-to-date information on travel security, please refer to the DFATD Travel Report for Tunisia.
Trade Information
| | | | | | | |
| --- | --- | --- | --- | --- | --- | --- |
| Trade Partners & Direction | 2011 | 2012 | 2013 | 2014 | 2015 | Average Yearly Growth |
| Tunisia Exports to the World | 17,636,104 | 16,997,489 | 17,562,255 | 18,495,821 | 17,957,392 | 0.50% |
| Tunisia Exports to United States | 273,313 | 326,018 | 409,141 | 268,680 | 451,189 | 13% |
| Tunisia Exports to Canada | 53,029 | 51,149 | 319,888 | 74,452 | 85,260 | 13% |
| Canadian Exports to Tunisia | 101,898 | 136,883 | 107,085 | 91,861 | 127,109 | 6% |
Source: Trade Data Online (Innovations, Science and Economic Development Canada), Trade Map (International Trade Centre), World Integrated Trade Solution (World Bank)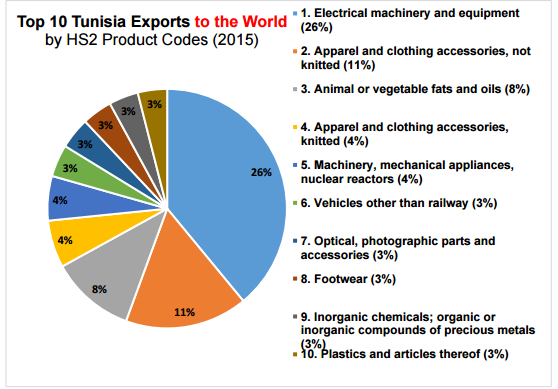 Excluding mineral products (HS2 Codes 26-27 and 71-80)
Source: International Trade Centre Trade Map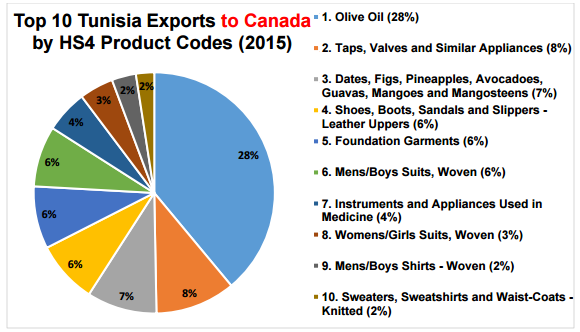 Excluding mineral products (HS2 Codes 26-27 and 71-80)
Source: Industry Canada Trade Data Online
Business Climate
The World Bank's annual Doing Business report ranks economies from 1 to 183 (with 1 being the best) on their ease of doing business. In the 2017 report, Tunisia ranked 77 overall and 92 for Trading Across Borders, which measures the ease with which a standardized shipment of goods can be imported or exported across its borders. The average time to ship goods out of Tunisia was lower than the regional average at approximately 50 hours, with an estimated cost of CAD $600 per 20-foot container. To complete the export process, only five forms of documentation are required: A bill of lading, a commercial invoice, a customs export declaration, a certificate of origin and an export certificate.
Although there are many reputable exporters in Tunisia, Canadian importers should be aware that corruption could be an issue when doing business in the country. Tunisia ranked 76 out of 168 in Transparency International's 2015 Corruption Perceptions Indexwhere 1 indicates least corrupt.  Canadian companies are advised to exercise strict due diligence before working with a company from Tunisia to ensure that it is a bona fide and reputable entity. It is suggested that Canadian importers commission a report by a credit information provider to verify the financial strength of the partner.
Sustainability Initiatives
Tunisia is the first Arab State to create a Ministry of Environment and Sustainable Development. It works closely with the Ministry of Transport to create a safe and clean environment. Tunisia's National Commission for Sustainable Development (CNDD) was established in 1993 for environmental protection which works towards national sustainable development policies. Joint efforts from the Tunisian Ministry of Environment and the European Commissions' Horizon 2020, support a National Pact for Sustainable Development with Tunisian companies in Corporate Social Responsibility (CSR) best practices focused on local issues such as high unemployment and poor labour conditions. Many certified fair trade organizations are actively working in the country, for example Fairtrade International (FTA-NAN) based in Tunis which attracts Tunisian producers for fair trading business.
Trade Opportunities
Tunisia offers a wide range of products of interest to Canadian importers. Although olive oil represents almost 30% of products imported to Canada, Tunisia's growing list of export products includes manufactured, agricultural and value-added items that would appeal to a North American market.
1. Olive Oil
Canada imported over CAD $24 million of olive oil from Tunisia in 2015, making it the second largest Canadian source of olive oil in the world after Italy. 58% of the Canadian olive oil market is imported from Italy while only 11% is imported from Tunisia. However, Canadian imports of olive oil from Tunisia nearly doubled between 2014 and 2015. Tunisia offers a wide variety of olive oils including Virgin, Extra Virgin, Ordinary, Refined and Olive-Pomace. Each variety is produced using different types of physical treatment, varying levels of acidity concentration (according to the International Oil Council trade standards), as well as a mix of consistency and flavors. Tunisia's high quality olive oil products and derivatives satisfy all segments of international culinary markets. Consumption of olive oil in Canada has increased approximately 41% since 2012 and forecasts project increasing sales in upcoming years. Tunisian olive oil presents a range of products to satisfy this growing deman.                                                                                                                                                                                        

2. Textile & Apparel
Manufacturing of textiles and apparel is the largest industry in Tunisia and represents 21% of the country's economy, including approximately 1,600 legally registered exporters who focus primarily on the European market. In addition to quality local producers, international companies own and manage approximately 40% of textile manufacturers in the country. After Morocco, Tunisia is the 2nd largest African country exporter of woven clothing and articles of apparel to Canada. Tunisia's trousers and foundation garments are highly appreciated products in international markets, particularly in Europe.
3. Electrical & Electronic Equipment
Another major export to the world from Tunisia is the electrical and electronic equipment with 38% of Tunisia's export market. Electronic products represent the 4th largest import to Canada and is valued at over CAD $12 million. In the first quarter in 2016, Tunisia`s export of electronic products to Canada increased by 8.2% which shows Canadian importers in this space are open to new markets.
TFO Canada Export Offers
TFO Canada provides an information service for Canadian importers interested in sourcing products from developing and emerging economies such as Tunisia. This includes practical advice on sourcing from developing country exporters, a customized news bulletin including new leads from Tunisia as they come in, and a searchable database for sourcing new products and suppliers. The chart below provides a rough idea of the number of supplier profiles from Tunisia, available online with contact information through TFO Canada's searchable Supplier Database.
| | |
| --- | --- |
| Industry Group | No. of Suppliers in TFO Canada Database |
| Food Products and Beverages | 35 |
| Home Décor, Giftware and Crafts | 3 |
| Housewares and Hardware | 1 |
| I.T. Services (Including Software) | 1 |
| Office and Other Professional Supplies | 1 |
| Personal Care, Pharmaceuticals and Natural Health Products | 2 |
| Professional and Other Services | 1 |
Upcoming Trade Shows
TexMed Tunisia (Euro-Mediterranean Clothing Show)
Takes place in October
Parc des expositions du Kram, Tunis, Tunisia
Industry: Clothing, Fashion & Textile
http://www.nsalons.com/texmed-tunisia/
DarDéco (Decoration & Design Trade Show)
Takes place in December
Parc des Expositions et Centre de Commerce International de Tunis
Industry: Home Décor, Design, & Decoration
www.dardeco.com.tn
Salon du Meuble de Tunis (Furniture Trade Show)
Takes place in February
Parc des Expositions et Centre de Commerce International de Tunis
Industry: Furniture & Home Décor
www.salondumeuble.com.tn
Sport & Loisir Expo
Takes place in March
Soukra Expo, Tunis, Tunisia
Industry: Sports & Leisure
http://www.made-in-tunisia.net/events/sport-et-loisir-expo-2014-5865.html
Contact Information
Tunisian Embassy in Canada
515 O'Connor Street, Ottawa, Ontario K1S 3P8
Tel.: 1 (613) 237-0330; 1 (613) 237-0332
Email: [email protected]
Tunisian Consulate in Canada
1255 boulevard Robert-Bourassa, Suite 300, Montréal, Québec, H3B 3B4
Tel.: 1 (514) 844-6909; 1 (514) 844-2342
Email: [email protected]
 http://consulat-tunisie.ca/