Tanzania – Country Profile
General Information
| | |
| --- | --- |
| Official Name | United Republic of Tanzania |
| Capital | Dodoma |
| Land Area | 883,749 sq km |
| Population | 49.2m |
| Currency | 1 $CAD = 1,409.12 Tanzanian Shilling |
| National Holiday | Union Day – April 26th |
| Language(s) | Kiswahili or Swahili (official); English (official) |
Source: Economic Intelligence Unit, Bank of Canada (Currency Conversion 28/01/2014)
Political Information
| | |
| --- | --- |
| Form of State | Republic |
| Head of State | President Jakaya Kikwete (since 21 December 2005) |
| Elections | Next in 2015 |
Source: Economic Intelligence Unit
Economic Information
| | | |
| --- | --- | --- |
| | Tanzania | Canada |
| GDP (PPP) | $ 84.8 billion | $1,668 billion |
| GDP per capita | $719.26 | $52,037 |
| GDP annual growth rate | 6.93% | 2.01% |
| GDP – composition by sector | Agriculture: 27.6%Industry: 25%Services: 47.4% | Agriculture: 1.7%Industry: 28.4%Services: 69.9% |
| Inflation rate – average consumer prices | 7.87% | 0.96% |
| Main industries | Agricultural processing (sugar, beer, cigarettes, sisal twine); diamond, gold, and iron mining, salt, soda ash, cement, oil refining, shoes, apparel, wood products, fertilizer | Transportation equipment, chemicals, processed and unprocessed minerals, food products, wood and paper products, fish products, petroleum and natural gas. |
Note: 2013 data in Canadian dollars ($CAD)
Source: IMF World Economic Outlook, World Bank Data, CIA World Factbook, Bank of Canada (Currency Conversion 15/12/2015).
Political and Economic Stability
Tanzania became completely independent from Great Britain in 1961, and has become a constitutional democratic republic since 1962. Before 1992, the country's constitution allowed one single political party, and 1995 the first multi-party election was held after amendments to the constitution. The country is one of the most politically stables of the region.
New and improved data sources to calculate economic growth have shown that Tanzania is almost one-third larger than what it was previously estimated and is on track to reach its goal of becoming a middle-income country. GDP growth rates have fluctuated from 8.8 to 5.1 percent between 2007 and 2013. The new calculations have also shown that the agricultural sector represents nearly one-third of the GDP, but the share has been decreasing since 2007. In terms of trade openness, Tanzania ranks below the average for Sub-Saharan Africa.
Poverty has declined from 34 percent in 2007 to 28 percent in 2013, but Tanzania's income per capita is lower than the average for Sub-Saharan Africa as more than 90% of the population lives with less than US$ 3 per day.
Security
The Department of Foreign Affairs, Trade and Development Canada (DFATD) recommends that Canadians exercise a high degree of caution when traveling in Tanzania due to the threat of terrorism. While there is no national advisory in effect for Tanzania, violent crime as well as sectarian violence between Christians and Muslims have increased throughout the country. Therefore, DFATD advises caution in public spaces, especially in Dar el Salaam and Zanzibar. For detailed and up-to-date information on travel security, please refer to the DFATD Travel Report for Tanzania.
Trade Information
| | | | | | | |
| --- | --- | --- | --- | --- | --- | --- |
| Trade Partners & Direction | 2009 | 2010 | 2011 | 2012 | 2013 | Average Yearly Growth |
| Tanzania Exports to the World ($CAD millions) | $3,388 | $4,171 | $4,679 | $5,544 | $4,542 | 6% |
| Tanzania Exports to the United States ($CAD millions) | $54 | $50 | $49 | $69 | $63 | 3% |
| Tanzania Exports to Canada ($CAD millions) | $ 5 | $ 3 | $ 5 | $ 9 | $ 9 | 13% |
| Canadian Exports to Tanzania ($CAD millions) | $52 | $62 | $80 | $76 | $73 | 7% |
Note: Data in millions of Canadian dollars ($CAD)
Source: Trade Data Online (Industry Canada), Trade Map (International Trade Centre), World Integrated Trade Solution (World Bank), United States Trade Representative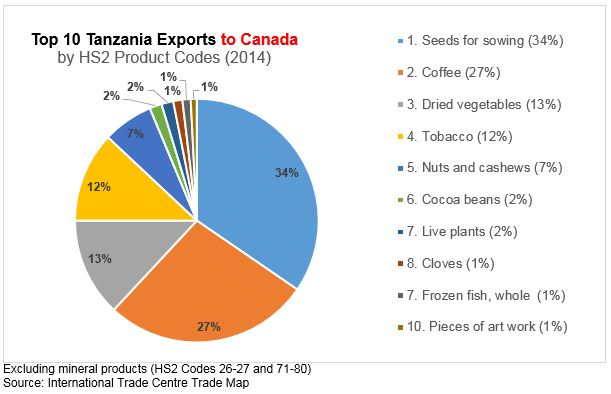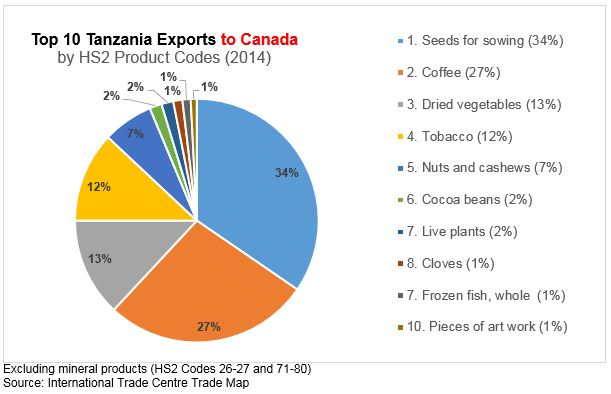 Business Climate
The World Bank's annual Doing Business report ranks economies from 1 to 189 (with 1 being the best) on their ease of doing business. In the 2015 report, Tanzania ranked 131 overall and 137 for Trading Across Borders, which measures the ease with which a standardized shipment of goods can be imported or exported across its borders. The average time to ship goods out of Tanzania is much lower than the regional average at approximately 18 days, with a low average estimated cost of $CAD 1,362,91 per 20-foot container. To complete the export process, only 7 forms of documentation are required: Bill of lading, Certificate of origin, Commercial invoice, Customs export declaration (TANSAD), Customs release order, Packing list and Shipping order.
Although there are many reputable exporters in Tanzania, Canadian importers should be aware that corruption could be an issue when doing business in the country. Tanzania ranked 119 out of 175 in Transparency International's 2014 Corruption Perceptions Index where 1st place indicates least corrupt. Canadian companies are advised to exercise strict due diligence before working with a company from Tanzania to ensure that it is a bona fide and reputable entity. It is suggested that Canadian importers commission a report by a credit information provider to verify the financial strength of the partner.
Sustainability Initiatives
Cocoa and coffee, two top ranked products in Tanzania's production portfolio, are commodities for which production is mostly dominated by small producers that are generally subject to poverty conditions, child and forced labour, deforestation, biodiversity maintenance, etc. Sustainability standards and certification are highly important for social, environmental and economic protection of the producer's country and the most commonly certifications used are Fairtrade, Organic and Rainforest Alliance. In the last few years, product certification have increased significantly and in 2012 Tanzania ranked among the ten largest exporters of standard-compliant cocoa (Rainforest Alliance) and coffee (Fairtrade) of the world.
Canadian mining companies are among the largest investors in Tanzania. In order to ensure that these extractive companies are able to manage the social and environmental risks associated with their activities and are committed to ethical, environmental and social standards, Canada has launched in 2014 the enhanced Corporate Social Responsibility (CSR) Strategy, called "Doing Business the Canadian Way: A Strategy to Advance Corporate Social Responsibility in Canada's Extractive Sector Abroad". According to the document, companies that are aligned to CRS strategy can continue to benefit from government existing services to ease business in the extractive sector from its crown corporations.
Trade Opportunities
Canada and Tanzania have close and long trade relations. Since 2003, Canada guarantees duty-free access for most products coming from Tanzania, under the Market Access Initiative. In 2013, Canada ranked 31st in exports destination for Tanzanian products, as there are other preferred market destinations in Africa, Europe and Middle-East. Tanzania exports to Canada have grown in the past five years, with an average yearly growth of 13%, but amounts are still modest if compared to other countries, ranging from CAD$ 5 to 9 million annually. However, there are positive expectations for increased business between the two countries with the new Foreign Investment Promotion and Protection Agreement (FIPA) brought into force in December 2013. FIPA is a bilateral agreement that protects foreign investments with legally-binding rights and obligations, creating a more transparent and predictable investment climate for Canadian investors.
1. Seeds
Tanzania's climate and natural condition are incredibly favorable for the production of all sorts of seeds, including oil seeds. Since 2012, Canada`s imports of seeds from Tanzania have increased ten-times fold, reaching more than CAD$ 3.8 million in 2014. The country is one of the world`s greatest exporters of these products and have been making substantial investments to increase sector`s productivity for products such as maize, soya, sunflower and sesame, highlighted as fast growing business opportunities.
2. Cashew nuts
Agricultural products are in the core of Tanzania`s economy given its rich endowment for growing fresh fruits and vegetables. In 2010 Tanzania launched a public-private partnership, the Southern Agricultural Growth Corridor of Tanzania (SAGCOT) to boost agricultural productivity in the country and one the products that have been attracting investors interest is cashew nuts. Between 2011 and 2014, Canada`s imports of nuts and cashews from Tanzania have doubled, reaching CAD$ 3.3 million.
3. Sugar
There mainly four mills focused on sugar production in the country, which were privatized in 2000. Since then, production has more than doubled, increasing from 135,000 tons in 2001 to 300,000 tons in 2011. Tanzania's natural conditions for sugar cane production is ideal.  Despite the unmet domestic demand for the product, the country has been able to export some of its production – taking advantage of favorable commodities prices -, which illustrates potential business opportunities for the Canadian market.
4. Fish
Tanzania`s total capture fisheries production ranks among the top 10 largest in the world. According its 2010 National Statistics Bureau, fishing activities responds for 10 percent of the national foreign exchange earnings, and the government has undertaken measures to boost investments in the sector.