Morocco – Country Profile
General Information
| | |
| --- | --- |
| Official Name | Kingdom of Morocco |
| Capital | Rabat |
| Land Area | 710,850 sq km |
| Population | 34.38M |
| Currency | 1 $CAD = 7.65 Diharm (Dh) |
| National Holiday | November 18 (Independence) |
| Language(s) | Arabic (official), Berber (Tamazight, Tachelhit, Tarifit) French (used for business, government and diplomacy) |
| Largest Cities | Casablanca (3.4 million), Rabat & Salé (1.9 million), Fès (1.1 million), Marrakesh (1 million), Tangier (770,000), and Kénitra (400,000) |
Source: Economic Intelligence Unit, Bank of Canada (Currency Conversion 26/01/2017)
Political Information
| | |
| --- | --- |
| Form of State | Constitutional Monarchy |
| Head of State | King Mohammed VI |
| Elections | Last elections: October 7th 2016 (Chamber of Representatives); October 2015 (Chamber of Advisers); September 2015 (municipal and regional councils). Next national elections: October 2020 (Chamber of Advisors); October 2021 (Chamber of Representatives) |
Source: Economic Intelligence Unit
Economic Information
| | | |
| --- | --- | --- |
| | Morocco | Canada |
| GDP (PPP) | $CAD 370.6 Billion | $CAD 2.20 Trillion |
| GDP per capita | $CAD 10,410.37 | $CAD 58,423.45 |
| GDP annual growth rate | 1.8% | 1.2% |
| GDP – composition by sector | Agriculture: 13.1% Industry: 29.8% Services: 57.2% (CIA World Factbook- 2016) | Agriculture: 1.6% Industry: 27.7% Services: 70.7% (CIA World Factbook- 2016) |
| Inflation rate – average consumer prices | 1.8% | 1.1% |
| Main industries | Automotive parts, Phosphate Mining and Processing, Aerospace, Food Processing, Leather Goods, Textiles, Construction, Energy, Tourism. (CIA World Factbook- 2016) | Transportation Equipment, Chemicals, Processed and Unprocessed Minerals, Food Products, Wood and Paper Products, Fish Products, Petroleum and Natural Gas. (CIA World Factbook- 2016) |
Note: 2015 data in Canadian dollars ($CAD)
Source: IMF World Economic Outlook, World Bank Data, CIA World Factbook, Bank of Canada (Currency Conversion 15/06/2017).
Political and Economic Stability
Wide-ranging reforms were engaged with the adaptation of the new Constitution in 2011, which laid the foundations for a more open and democratic Moroccan society, decentralization and a more modern state. Since then, the current government is still reforming and pursuing these political and economical reforms. The country engaged regionalization and thus held regional and local elections in September 2015 where two parties emerged, the ruling PJD and the opposition party PAM. This new definition of political powers has redefined government coalition in the 2016 legislative elections when the PJD party won the largest number of seats at the parliament of Morocco.
Economic activity during the past year slowed after a successful performance in 2015. Inflation has remained muted at under 2%. Despite the lower performance, 2016 and 2017 have been promising periods. Morocco is reducing its fiscal deficit to 3.5% of GDP and its external current account has improved significantly. Further, Morocco's international reserves reached US$ 24.9 billion, the equivalent of 7.3% worth of imports at end-June 2016. The Moroccan per-capita income growth has led to eliminating extreme poverty and helped reducing poverty overall.
Morocco is the 64th largest export economy worldwide and its top export destinations are India, the United States and Mediterranean countries such as Spain, France, and Italy.
The Moroccan community in Canada is estimated at over 100,000, making it the largest Canadian-based diaspora from North Africa. Also, 1.4% of the Moroccan goods is exported to Canada, which is equivalent to a value of $CAD 437.35 million every year. Morocco exports especially mineral products and vegetables products to Canada. The good exported to Canada are mainly vegetables products, mineral products and machines.
Security
There is no nationwide advisory in effect for Morocco. However, you should exercise a high degree of caution due to the threat of terrorism. Global Affairs Canada also advises against all travel to within 30 km west of the Berm, Morocco's militarized boundary in the Western Sahara, and between the Berm and neighbouring countries on the eastern side.
Trade Information
| | | | | | | |
| --- | --- | --- | --- | --- | --- | --- |
| Trade Partners & Direction | 2011 | 2012 | 2013 | 2014 | 2015 | Ave. Yearly Growth |
| Morocco exportsto the World($CAD Million) | 21,394,141 | 21,405,645 | 22,611,490 | 26,282,799 | 28,118,389 | 0.3% |
| Morocco exportsto United States($CAD Million) | 972,013 | 929,229 | 953,917 | 945,688 | 984,727 | 0.1% |
| Morocco exportsto Canada ($CADMillion) | 119.111 | 154.088 | 193.326 | 313.502 | 410.860 | 2.4% |
| Canadian Exportsto Morocco ($CAD Million) | 299.795 | 368.483 | 441.755 | 398.182 | 306.248 | 0.2% |
Note: Data in millions of Canadian dollars ($CAD) Source: Trade Data Online (Industry Canada), Trade Map (International Trade Centre), World Integrated Trade Solution (World Bank), United States Trade Representative.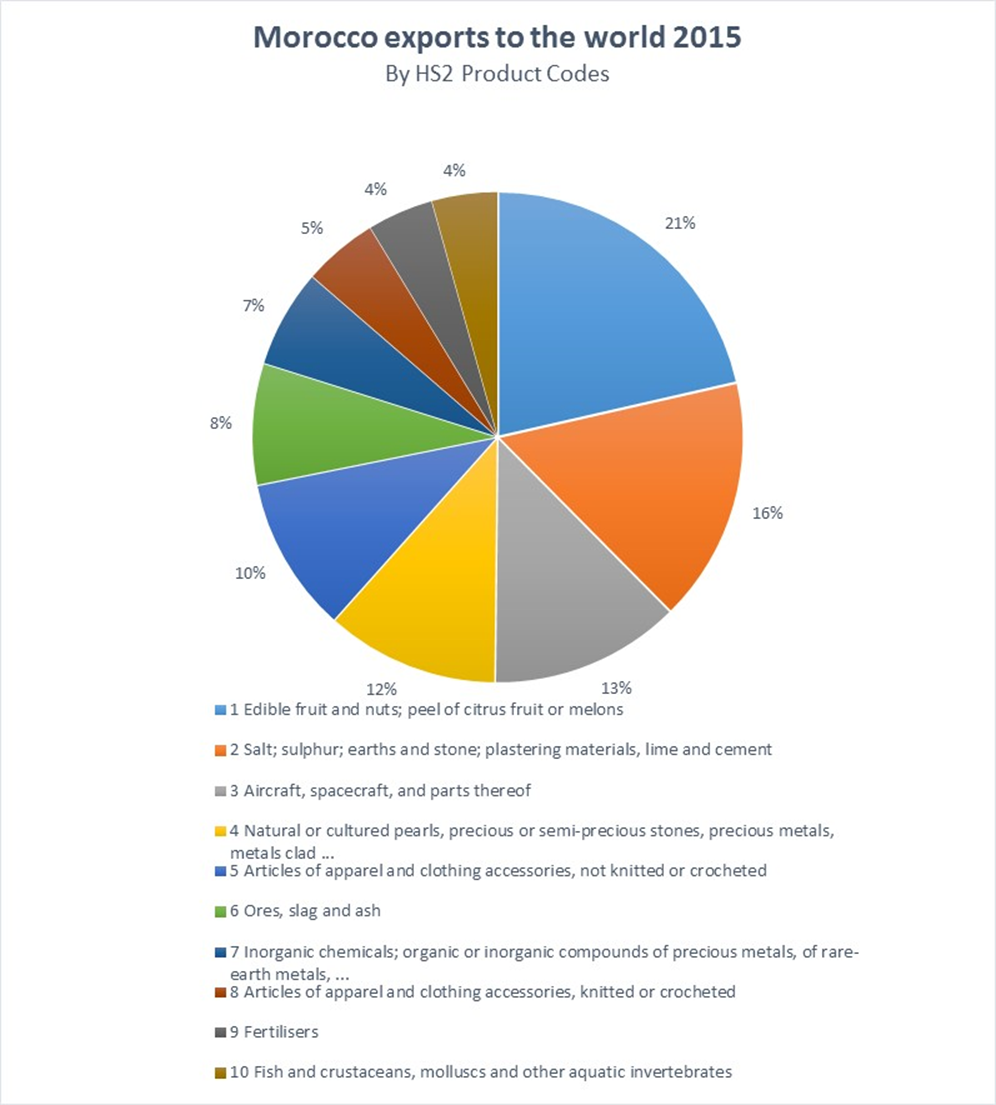 Excluding mineral products (HS2 Codes 26-27 and 71-80)
Source: International Trade Centre Trade Map
Business Climate
The World Bank's annual Doing Business report ranks economies from 1 to 190 (with 1 being the best) on their ease of doing business. In the 2017 report, Morocco ranked 68 overall and 63 for Trading Across Borders, which measures the ease with which a standardized shipment of goods can be imported or exported across its borders. The average time to ship goods out of Morocco much lower than the regional average at approximately 49 hours, with a low average estimated cost of $CAD 1254 per 20-foot container. To complete the export process, only 5 forms of documentation are required: The Commercial Invoice, the Packing List, the Certificate of Origin, the Customs Export Declaration and the "Etat de changement du Transportateur".
Although there are many reputable exporters in Vietnam, Canadian importers should be aware that corruption could be an issue when doing business in the country. Morocco ranked 90 out of 176 in Transparency International's 2016 Corruption Perceptions Index where 1st place indicates least corrupt. Canadian companies are advised to exercise strict due diligence before working with a company from Vietnam to ensure that it is a bona fide and reputable entity. Canadian companies are advised to exercise strict due diligence before working with a company from Morocco to ensure that it is a bona fide and reputable entity. It is suggested that Canadian importers commission a report by a credit information provider to verify the financial strength of the partner.
Sustainability Initiatives
Being the Arab world leader in the development of renewable energy and climate change control, Morocco has become a green economy through its promotion of green growth, It was ranked 81th out of 178 countries in the Environmental Performance Index and 5th in the Performance Index of the 2014 World Energy Architecture. Hence Rabat, its capital, was among the few 15 cities named "green cities" over the past years. One of its steps was the creation of the Confédération Générale des Entreprises du Maroc (CGEM) which aim is to change the business attitude towards the environment.
Source: GIN Conference, November 2016, American School of Marrakesh
Trade Opportunities
Morocco mainly exports to European Mediterranean countries, such as Spain (19% of its exportations), France (18%) or Italy (4.2%), and exports around 1.3% of its products and services to Canada. Of its total exportations, 6% goes to the countries of the NAFTA. Morocco is therefore the 68h largest exporter in the world. What Canada essentially imports from the Moroccan market is Calcium Phosphates, Citrus and Aircraft Parts. This bilateral trade relation between both countries provides a total of 334M $US every year to the Moroccan industries and enterprises. Furthermore, a free trade agreement between Canada and Morocco is being negotiated since 2011, a progress that would provide an even more secure and faster environment for trade and investment between both countries.
1. Mineral products ­ Calcium Phosphates
Approximately one-third of global calcium phosphates exports are Moroccan, and Canada is the second most important importer of this Moroccan mineral product, after India. Thus, Morocco exports 12% of its Calcium Phosphates to Canada, from which 26% come from Natural Calcium Phosphates Ground, and 19% come from Natural Calcium Phosphates Unground, with an export value of 153M $US every year. This rare mineral product is used for the production of fertilizer or human multivitamin and mineral supplements. More specifically, calcium phosphates can be found in medicine or dental products, such as products specifically made to treat mouth ulcers. 2. Vegetables ­ Citrus
Canada imports approximately 9.2% of its Citrus from Morocco, which makes the Moroccan market the third most important Citrus importer to Canada, after the United States and South Africa. Therefore, Morocco exports to the Canadian market mandarins, clementines, citrus hybrids, fresh and dried, with an approximated value of 45.5M $US per year. Concerning the exportations of vegetable, Morocco also exports perfume plants, preserved vegetables, spices and tea to its northern bilateral importer.
3. Transportation ­ Aircraft Parts
Approximately 9% of Canadian imports from Morocco are aircraft parts, used for instance for the cockpit or the wings of an airplane. Bombardier Aerospace, the Canadian industry and the largest aircraft manufacturer after Boeing and Airbus, which is based in Montreal, has started to import Moroccan aircraft parts from a transitional facility near Casablanca, since 2012. The overall export value from the Moroccan transportation is estimated at 29.5M $US per year.
4. Textiles ­ Women's Suits
Morocco is the most considerable African importers of women's suits in Canada, with an annual export value, for Morocco, of 28.9M $US. Morocco is home to 1600 textile manufacturers. Most of the textile products imported from Morocco to the Canadian market are brassieres and parts thereof, men's trousers and shorts of cotton, and women's blouses and shirts.
5. Precious Metals ­ Silver
Last but not least, 4.4% of Morocco's exportations to Canada are precious metals, majorly silver in unwrought forms. The export value of this product is estimated at 14.5M $US yearly for the Moroccan industries. Morocco is the first silver exporter in Africa, followed by South Africa.
Emerging Sector: Renewable Energy
The Maghrebi country is looking to expand its renewable energy capacity with a goal of making renewable more than 50% of installed electricity generation capacity into the next 15 years.
TFO Canada Export Offers
TFO Canada provides an information service for Canadian importers interested in sourcing products from developing and emerging economies such as Morocco. This includes practical advice on sourcing from developing country exporters, a customized news bulletin including new leads from Morocco as they come in, and a searchable database for sourcing new products and suppliers. The chart below provides a rough idea of the number of supplier profiles from Morocco, available online with contact information through TFO's searchable Supplier Database.
| | |
| --- | --- |
| Industry Group | No. of Suppliers in TFO Database |
| Building Materials, Hardware, Handtools | 1 |
| Food Products and Beverages (including Seafood) | 5 |
| Personal Care, Pharmaceuticals and Natural Health Products | 3 |
| Professional and Other Services | 1 |
| Fashion Accessories | 1 |
| Textiles | 1 |
| Clothing (not including Footwear | 1 |
| Furniture (Indoor and Outdoor) | 1 |
Upcoming Trade Shows
Administration
World LPG Forum 2017
The key international agencies, policy makers and industry leaders discuss the growth potential of new business relationships
Octobre 2017
Palais des Congres de Marrakech
Organizers: Secretariat MCI France (Paris), WLPGA (world LPG association), LPG exceptional Energy
Official Website: http://www.worldlpgforum2017.com/
Textiles and Furniture
North African Coatings Congress 2018
Congress dedicated to the coatings industry
October 2018
Hyatt Regency Hotel, Place des Nations Unies, Casablanca
Organizers: DMG Events, Ltd (UK, +441737855162) and DMG::Events (USA, +12039732940)
Official Website: http://www.coatings-group.com/
Transportations
Aerospace meetings Casablanca 2017
International business convention for the aerospace industry
Octobre 2017
Office des Foires et Expositions de Casablanca (OFEC) , rue Tiznit, in front of the Hassan II Mosque
+212 (0) 522 201 1157
Organizers: ABE (advanced business events)
Official Website: http://casablanca.bciaerospace.com/fr/
Automotive Manufacturing Meetings Morocco 2017
International business convention for the automotive manufacturing and supply chain
June 2017
Organizers: ABE (advanced business events)
For more information, contact ABE at +33 (0)1 41 86 41 70
International Marrakech Air Show 2018
Showcases over 200 exhibiting worldwide companies, dedicated to the aerospace industry and recognised as being a major event on the international aerospace calendar
April 2018
Marrakech, venue to be announced
Organizers: GiPlanet (Italy) and Module Design (Casablanca)
[email protected]
Official Website: http://www.imas-aero.com
Information and Technology
Digital IT Days
Business forum for digital solutions and information technologies in Morocco
Organizers: CFCIM (Chambre Francaise de Commerce et d'Industrie du Maroc)
Official Website: http://www.planeteentreprise.com/forum/1440/5738/0/digital-it-days.html
Agriculture and Food
CREMAI
Pastry, bakery, catering and hospitality industry international trade show
Organizers: Groupe Rahal (Casablanca)
Official Website: http://www.cremai.ma/
SIFEL Agadir 2017
Fruit and vegetable international fair in Morocco
December 2017
Agadir Parc Expo, route national 1
Organizers: IEC (International Exhibitions and Conferences – Casablanca)
Official Website: http://www.sifelmorocco.com/
Contact Information
Centre Marocain de Promotion des Exportations
Numero 5 rue Sidi Belyout, 20000 Casablanca, Maroc
Tel.: (+212) 522 30.22.10/30.75.43
Email: [email protected]
Embassy of Morocco in Canada
38 Range Road, Ottawa, Ontario, K1N 8J4
(613) 236-7391
[email protected]
www.ambamaroc.ca
Consulate General of Morocco in Montreal
2192 Boulevard René-Lévesque Ouest, Montréal, Québec
(514) 288-8750
[email protected]
www.consulatdumaroc.ca/services.htm
Association Morocaine des Exportateurs (ASMEX)
2 Rue Jbel El Aroui, angle Bb. Sidi Abderrahmane, Hay Esssalam
20203 Cassablanca, Morocco
(+212) 05 22 94 93 05 / (+212) 05 22 94 93 08
[email protected]
www.asmex.inwi.co.ma/asmex/index.jsp
Useful Links
| | |
| --- | --- |
| Association des Femmes Chefs d'Entreprises du Maroc (AFEM) (Association of Women Enterpreneurs in Morocco) | www.afem.ma |
| Association Marocaine de l'Industrie Pharmaceutique (AMIP) (Moroccan Industry Association of Pharmaceuticals) | www.amip.ma |
| Association Marocaine des Industries du Textile et de l'Habillement(AMITH) (Moroccan Association of Apparel and Textiles) | www.textile.ma/portail/default.aspx (French only) |
| Association Marocaine de Producteurs Exportateurs de Fruits et Légumes(APEFEL) (Moroccan Association of Exporting Producers of Fruits and Vegetables) | www.apefel.com/index.php (French only) |
| Confédération Générale des Entreprises du Maroc (General Confederation of Moroccan Enterprises) | www.cgem.ma/index.php |
| Fédération Nationale de l'Agroalimentaire (FENAGRI) (National Agro-Food Association) | www.fenagri.org (French only) |
| Ministry of Economy and Finance – Morocco | www.finances.gov.ma/en/SitePages/home.aspx |
| Ministère de l'Industrie, du Commerce, de l'Investissement et de l'Économie Numérique (Ministry of Industry, Trade, Investment and Numeric Economy of Morocco) | www.mce.gov.ma/home.asp |
| Moroccan Investment and Development Agency (MIDA) | www.invest.gov.ma |
| Office of Fairs and Expositions of Casablanca (OFEC) ) | www.en.ofec.ma |
| Federation Nationle du E-Commerce au Maroc (FNEM) | www.fnem.org |
| Association Marocaine pour l'Industrie et le Commerce Automobile (AMICA) | www.amica.org.ma |