General Information
| | |
| --- | --- |
| Official Name | Republic of Kenya |
| Capital | Nairobi |
| Land Area | 569,140 sq km |
| Population | 46.7 million |
| Currency | 1 $ CAD = 102.25 Ksh (Kenya shilling) |
| National Holiday | June 1 (Madaraka day), October 20 (Mashujaa Heroes' Day), and December 12 (Independence Day/Jamhuri Day) |
| Language(s) | English, Kiswahili, and more than 40 indigenous languages |
| Largest Cities | Nairobi (3.1 million), Nakuru (1.6 million), Kisumu (968,000), Mombasa (939,000) |
Source: Economist Intelligence Unit, RBC Royal Bank Currency Converter (05/07/2016)
Political Information
| | |
| --- | --- |
| Form of State | Unitary republic |
| Head of State | President Uhuru Kenyatta |
| Elections | Last election: March 2013, Next election: August 2017 |
Source: Economic Intelligence Unit
Economic Information
Kenya
Canada
GDP (PPP)
$190.35 billion
$ 2188.4 billion
GDP per capita
$ 1994.21
$ 60,085
GDP annual growth rate
6.86%
2.16%
GDP – composition by sector
Agriculture: 32.9%

Industry: 17.8%

Services: 49.2% (2015 est.)

Agriculture: 1.6%

Industry: 28.2%

Services: 70.3%

Inflation rate – average consumer prices
6.6%
1.1%
Main industries
Small-scale consumer goods (plastic, furniture, batteries, textiles, clothing, soap, cigarettes, flour), agricultural products, horticulture, oil refining; aluminum, steel, lead; cement, commercial ship repair, and tourism
Transportation equipment, chemicals, processed and unprocessed minerals, food products, wood and paper products, fish products, petroleum and natural gas.
Note: 2016 data estimates in Canadian dollars ($CAD)
Source: IMF World Economic Outlook, World Bank Data, CIA World Fact book 2015, Bank of Canada (Currency Conversion 05/07/2016)
Political and Economic Stability
Kenya is central to the economic stability of East Africa. It is considered the most industrialized and top performer in Sub-Saharan Africa. Kenya has strong financial services, infrastructure and private sector which contributes significantly to the country's growth in the region. The country's current governance system and its policies focus on increasing the private sector and growing the middle class in alignment with the vision 2030 by achieving a 10% GDP growth rate by 2017.
Besides challenges including poverty and unemployment, Kenya's growth is projected to rise to 6.0 % in 2016 and 6.1% in 2017. The country is expected to increase investment in infrastructure and lower domestic interest rates. According to the October 2015 Kenya Economic Update, Kenya is poised to be among the fastest growing economies in Eastern Africa. The 2016 Country Economic Memorandum says that Kenya's growth prospects will depend a lot on innovation, oil, and urbanization on the long term.
Kenya has achieved some of the Millennium Development Goals (MDG) which include reduced child mortality, near universal primary school enrolment and narrower gender gaps in education.  It has the potential to be one of the fastest growing country of Africa by addressing the challenges of poverty, population and education.
Security
Global Affairs Canada (GAC) recommends that Canadians exercise a high degree of caution when traveling in Kenya due to an increasing number of terrorist attacks and incidents of crime. While there is no national advisory in effect for Kenya, GAC advises against all travel to northeast Kenya near the Somalia border as well as near the borders with South Sudan and Ethiopia due to risk of kidnapping, armed banditry and cross-border violence. GAC also advises against non-essential travel to the Eastleigh neighbourhood of Nairobi where several attacks have been taken place as well as non-essential travel to Mombasa due to current elevated threat of terrorism. For detailed and up-to-date information on travel security, please refer to the GAC Travel Report for Kenya.
Trade Information
| | | | | | | |
| --- | --- | --- | --- | --- | --- | --- |
| Trade Partners & Direction | 2011 | 2012 | 2013 | 2014 | 2015 | Ave. Yearly Growth |
| Kenya Exports to the World |       5,784 |      *5,256 | 5,700 | 7,238 | 5,910 |      2% |
| **Kenya Exports to United States | 392 | 404 | 480 | 672 | 748 | 18% |
| Kenya Exports to Canada | 22 | 21 | 23 | 28 | 31 | 9% |
| Canadian Exports to Kenya | 83 | 96 | 110 | 124 | 93 | 4% |
Note: Data in thousands of Canadian dollars ($CAD)
Source: Trade Data Online (Innovations, Science and Economic Development Canada), Trade Map (International Trade Centre), World Integrated Trade Solution (World Bank), United States Trade Representative, * Data captured from previous records, ** Data captured from Trade map (US imports from Kenya)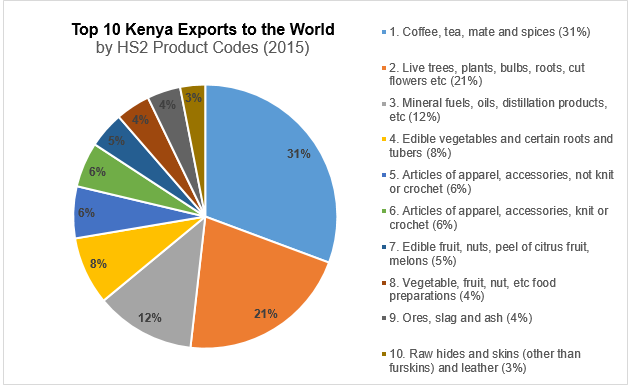 Excluding mineral products (HS2 Codes 26-27 and 71-80)
Source: International Trade Centre Trade Map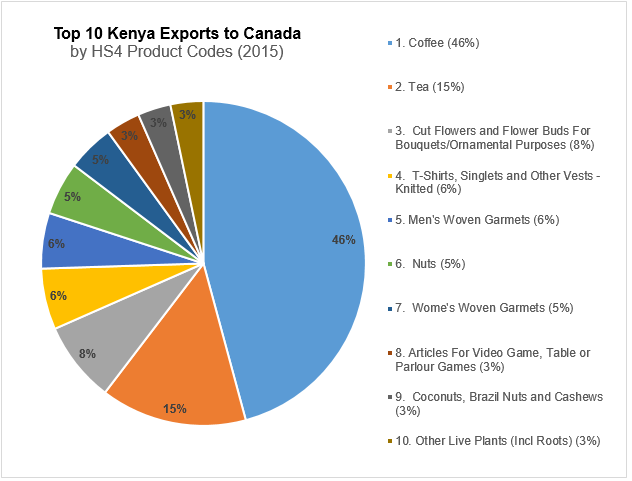 Excluding mineral products (HS2 Codes 26-27 and 71-80)
Source: Industry Canada Trade Data Online
Business Climate
The World Bank's annual Doing Business report ranks economies from 1 to 190 (with 1 being the best) on their ease of doing business. In the 2016 report, Kenya ranked 108 overall and 131 for Trading Across Borders, which measures the ease with which a standardized shipment of goods can be imported or exported across its borders. The average time to ship goods out of Kenya is higher than the regional average at approximately 21 days, with an average estimated cost of $CAD 2,960 per 20-foot container. To complete the export process, eight forms of documentation are required: Cargo release order, Certificate of origin (COMESA), Commercial invoice, Customs release order, Customs Transit Document, Export Declaration, Inland Bill of lading, Packing list.
Although there are many reputable exporters in Kenya, Canadian importers should be aware that corruption could be an issue when doing business in the country. Kenya ranked 139 out of 168 in Transparency International's 2015 Corruption Perceptions Indexwhere 1st place indicates least corrupt.  Canadian companies are advised to exercise strict due diligence before working with a company from Kenya to ensure that it is a bona fide and reputable entity. It is suggested that Canadian importers commission a report by a credit information provider to verify the financial strength of the partner.
Sustainability Initiatives
Kenya is the second African market, after South Africa, to have Fairtrade products for consumers. The Government's long-term strategy in the Vision 2030 includes increased environmental awareness and addressing environmental policy and management. Likewise, the Fair Trade Organization of Kenya (FTOK), which works to empower women and small-scale agricultural farmers with secure and equitable livelihoods, notes that climate change is affecting the country's weather patterns and has made crop management more challenging. To combat these challenges, the FTOK and like-minded organizations promote organic farming as an environmentally friendly practice in addition to adaptation and mitigation to climate change. In June 2013, Fairtrade International launched a new office in Kenya to promote the use of its FAIRTRADE mark on products from the East African region. It provides certification to flower farms in Kenya which is one of the fastest growing industries in the country to boost the productivity and worker's social, economic and educational improvement.
Trade Opportunities
Canada's imports from Kenya has increased steadily for the last 5 years which shows that Canadian importers are willing to explore more business opportunities in Kenya. Although coffee and tea are the main export products from Kenya to Canada, there are ample opportunities for floriculture, agriculture, textile and indoor gaming industries. With Kenya's Vision 2030 and its initiative to host the United Nations Conference on Trade and Development (UNCTAD), it will attract more export business.
Coffee & Tea
Kenya is Canada's major source of tea and coffee from Africa. Even though tea exports have decreased since 2014, due to drought and foreign market forces, it is one of the top ten tea exporters to Canada.
Agriculture & Floriculture
Kenya's agriculture sector grew by 5.6% compared to 3.4% in 2014 due to abundant rains that boosted production. The country's agriculture is the backbone of its economy. Besides coffee and tea, there are export opportunities for nuts, beans and mushrooms.
Kenya's floriculture is the fastest growing industry. Exports of cut flowers and roses have increased significantly over the last five years. Canada has tripled its imports of flowers from Kenya in 2015 which makes Kenya the number one exporters of flowers to Canada. The Kenya Flower Council (KFC) is a voluntary association of independent growers and exporters. It is the national «enquiry point» for the sector and works closely with the Fresh Produce Exporters Association of Kenya (FPEAK). Due to a growing floriculture sector, International Flower Trade Expo (IFTEX) has attracted exhibitors and companies for the last five years.
Textiles
As production costs rise in Asia, Sub-Sahara Africa offers new apparel sourcing markets. Kenya's Textile and Clothing (T&C) sector, earns a steady increase of total export which holds tremendous economic promise. The industry has 22 large foreign owned companies that operate in the country's Export Processing Zones (EPZs) and many medium and small sized factories operate their business in the country. Kenya is currently Canada's 2nd largest source of apparel from Africa. The Kenyan Government's Vision 2030 with its focus on T&C will open many opportunities for Canadian importers in future.
Sports & Leisure
The sports and leisure industry remains another opportunity for Canadian importers. Kenya's exports of sports and game articles to Canada more than doubled from 2011 to 2015.
TFO Canada Export Offers
TFO Canada provides an information service for Canadian importers interested in sourcing products from developing and emerging economies such as Tunisia. This includes practical advice on sourcing from developing country exporters, a customized news bulletin including new leads from Tunisia as they come in, and a searchable database for sourcing new products and suppliers. The chart below provides a rough idea of the number of supplier profiles from Kenya, available online with contact information through TFO Canada's searchable Supplier Database.
| | |
| --- | --- |
| Industry Group | Number of Suppliers in TFO Canada Database |
| Fashion Accessories | 2 |
| Floriculture | 1 |
| Food and Beverage | 3 |
| Footwear | 1 |
| Home Décor | 1 |
| Personal Care | 1 |
| Sports and Leisure | 2 |
Upcoming Trade Shows
Mombasa International Show (MIS)
Usually takes place in August
Agricultural Society of Kenya
P O Box – 21340 – 00505
Mombasa, Kenya
Industry – Fishing, Agriculture, Consumer Goods
http://www.ask.co.ke/branch-events/international-shows/mombasa/background
Kenya Trade Show
Usually takes place in September
The Sarit Centre
00800 Nairobi, Kenya
Industry –Plastics, Rubber, Automotive Engineering, Computers, Metal working industries, Industrial Fairs
http://www.growexh.com/kenyatradeshow/
Kenya Tradex
Usually takes place in December
Harambee Avenue
Nairobi, Kenya
Industry – Industrial and Commercial Fairs
http://www.profexexhibitions.com/kenya-tradex-expo.html
African Fine Coffee Conference & Exhibition
Usually takes place in February
The Safari Park Hotel
Kasarani On Thika Road
Nairobi, Kenya
Industry – Coffee, Tea & Chocolate, Food Processing Industries
http://afca.coffee/conference
Contact Information
Kenya High Commission in Canada
415 Laurier Avenue East, Ottawa, Ontario, K1N 6R4
(613) 563-1773
www.kenyahighcommission.ca
Kenya Export Promotion Council
1st and 16th Floor Anniversary Towers, University Way
P O Box 40247 00100 GPO
Nairobi, Kenya
+254 20 222 8534-8
www.epckenya.org