General Information
| | |
| --- | --- |
| Official Name | Hashemite Kingdom of Jordan |
| Capital | Amman |
| Land Area | 89,206 sq km |
| Population | 8.1 million (2014, United States Census Bureau) |
| Currency | 1 $CAD =  0.54 Jordanian Dinar (JOD) |
| National Holiday | May 25th (independence Day) |
| Language(s) | Arabic (Official), English |
Source: Economic Intelligence Unit, RBC Bank (Currency Conversion 29/09/2016)
Political Information
| | |
| --- | --- |
| Form of State | Constitutional Monarchy |
| Head of State | King Abdullah ibn Hussein al-Hashemi |
| Elections | Last: January 2017 Next: September 2020 |
Source: Economic Intelligence Unit
Economic Information
| | | |
| --- | --- | --- |
| | Jordan | Canada |
| GDP (PPP) | $113.77 billion | $2.191 trillion |
| GDP per capita | $14 533 | $60 489 |
| GDP annual growth rate | 2.8% | 1.2% |
| GDP – composition by sector | Agriculture: 4.2%Industry: 29.6%Services: 66.2% | Agriculture: 1.6%Industry: 27.7%Services: 70.7% |
| Inflation rate – average consumer prices | -0.8% | 1.06% |
| Main industries | Clothing, fertilizers, potash, phosphate mining, pharmaceuticals, petroleum refining, cement, inorganic chemicals, tourism | Transportation equipment, chemicals, processed and unprocessed minerals, food products, wood and paper products, fish products, petroleum and natural gas. |
Note: 2016 data in Canadian dollars ($CAD)
Source: IMF World Economic Outlook, World Bank Data, CIA World Factbook, Bank of Canada (Currency Conversion 14/02/2017).
Political and Economic Stability
Jordan is considered a very stable nation compared to its neighbours. The country has been in a peaceful state for nearly four decades. However, Jordan's proximity to conflict areas have created numerous issues for the nation including: disruptions in the supply of gas from Egypt, a mass influx of refugees from Syria and Iraq, and security concerns along its border with Iraq and Syria. The rise of the Arab Spring had some effect on Jordan. Beginning in January 2011, a series of protests created some political unrest, however it was characterized by mostly peaceful demonstrations and led to changes in the constitution and other legal reforms. Other areas of concern for the government involve scarcity of natural resources, especially water, unemployment particularly among youth, and modernizing its educational system. In 2015, Jordan was ranked 80th out of 187 countries on the Human Development Index.
Over the past ten years, fiscal reforms have resulted in a significant inflow of foreign investment into Jordan. However, the country continues to face budget deficits and rising debt, even with international assistance.
In December 2009, the Canada-Jordan Foreign Investment Promotion and Protection Agreement (FIPA) came into force. This agreement provides increased protection and predictability for Canadian investors and their investments in Jordan. In June of 2009, Canada and Jordan also signed a Bilateral Free Trade Agreement (FTA), which came into force on October 1st 2012. This agreement had a significant impact upon Jordan's exports to Canada, as their overall exports to Canada more than doubled and continues to grow at a high rate, particularly products such as clothing and textiles.
Security
Global Affairs Canada recommends that Canadians exercise a high degree of caution when traveling in Jordan due to civil unrest and demonstrations, and it also advises against non-essential travel to all areas within 3 km of the border with Syria and Iraq, due to incidents linked to the conflict in Syria and Iraq. For detailed and up-to-date information on travel security, please refer to the Global Affairs Canada Travel Report for Jordan.
Trade Information
| | | | | | | |
| --- | --- | --- | --- | --- | --- | --- |
| Trade Partners & Direction | 2011 | 2012 | 2013 | 2014 | 2015 | Average Yearly Growth |
| Jordan Exports to the World ($CAD Million) | 7,490 | 7,616 | 8,024 | 9,099 | 9,847 | 11.97% |
| Jordan Exports to United States ($CAD Million) | 976 | 1,053 | 1,169 | 1,362 | 1,718 | 5.62% |
| Jordan Exports to Canada ($CAD Million) | 13.3 | 13.9 | 33.3 | 52.2 | 67.4 | 38.34% |
| Canada Exports to Jordan ($ CAD Million) | 84.4 | 62.4 | 81.4 | 66.6 | 65.6 | -4.92% |
Note: Data in millions of Canadian dollars ($CAD)
Source: Trade Data Online (Innovations, science and Economic Development Canada), Trade Map (International Trade Centre), World Integrated Trade Solution (World Bank), United States Trade Representative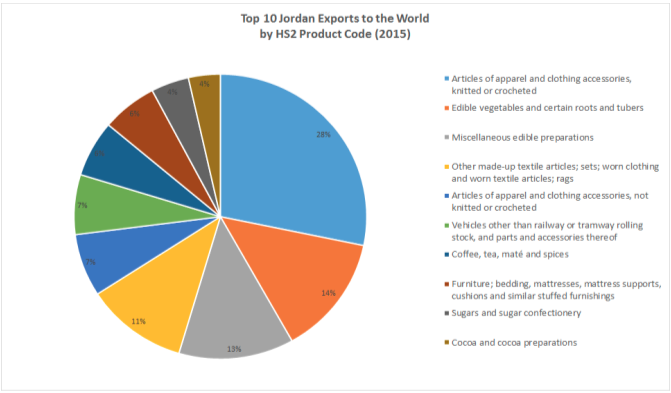 Excluding mineral products (HS2 Codes 26-27 and 71-80)
Source: International Trade Centre Trade Map
Excluding mineral products (HS2 Codes 26-27 and 71-80)
Source: Industry Canada Trade Data Online
Business Climate
The World Bank's annual Doing Business report ranks economies from 1 to 189 (with 1 being the best) on their ease of doing business. In the 2016 report, Jordan ranked 113 overall and 50 for Trading Across Borders, which measures the ease with which a standardized shipment of goods can be imported or exported across its borders. The average time to ship goods out of Jordan is lower than the regional average at approximately 13 days, with an average estimated cost of $927 CAD per 20-foot container. To complete the export process, five forms of documentation are required: Bill of Lading, Certificate of Origin, Commercial Invoice, Customs Export Declaration and Packing List.
Although there are many reputable exporters in Jordan, Canadian importers should be aware that corruption could be an issue when doing business. Jordan ranked 45 out of 168 in Transparency International's 2016 Corruption Perceptions Index where 1st place indicates least corrupt. Canadian companies are advised to exercise strict due diligence before working with a company from Jordan to ensure that it is a bona fide and reputable entity. It is suggested that Canadian importers commission a report by a credit information provider to verify the financial strength of the partner.
Sustainability Initiatives
CSR Watch–Jordan is an online stakeholder-driven platform that provides information, coordinates events and advocates for Corporate Social Responsibility in Jordan. The organization has a number of publications outlining sustainability and social responsibility in a number of sectors in Jordan including the banking, telecommunication, transport, manufacturing, logistics, energy and mining sectors.
Queen Rania Al Abdulla of Jordan is actively involved in promoting sustainability initiatives in Jordan. In 2008 she helped form the Arab Sustainability Leadership Group (ALSG), a regional network of businesses, government agencies, and NGOs dedicated to creating sustainable business practices.
The EDAMA Association is an association for businesses in the energy-water-environment sector. EDAMA is an Arabic word meaning sustainability. The association seeks to find solutions to water and energy resource dependence in Jordan.
The Network for Jordanian Industrial Sustainabilityis a platform for cooperation and knowledge sharing among industries, ministries and academic institutions in Jordan. The Network provides information on its website and coordinates activities and events in Jordan.
Trade Opportunities
The Government of Jordan launched a National Export Strategy for 2014 – 2019 in cooperation with the International Trade Centre (ICT) and funded by the Government of Canada. The strategy focuses on Small and Medium Enterprises (SMEs) which make up 95% of Jordan's economy and identifies six priority sectors including: fresh fruits and vegetables; prepared and preserved meat; electrical wires and cables; paints; management consulting; and architecture and engineering services. The service sector is of particular importance because it has increased Jordan's GDP by close to 70%. The following list examines some of these sectors as import opportunities for Canada.
1.Garments and Apparel 
Garments and apparel comprise Jordan's largest export to the world as well as to Canada. They account for over 94% of all of Jordan's exports to Canada in 2015 (if jewelry is excluded), and the vast majority of these exports are special garments for sports and professional uses.
2.Pharmaceuticals
Jordan's third largest export is pharmaceuticals but Canada did not import any pharmaceuticals from Jordan. This can be an area of some growth, as the industry now consists of 13 companies (down from 16 in 2014) that distribute 81% of their products over 60 countries. According to the Jordanian Association of Pharmaceutical Manufacturers, the sector is worth over $300 million.
3. Fertilizers
Jordan's second largest export to the world is fertilizer with revenues of $1 billion and an annual growth rate of 2% since 2009. Major corporations in the industry include Jordan Phosphate Mines Co., Indo-Jordan Chemicals Co., KEMAPCO (Arab Fertilizers and Chemicals Industries Ltd.), Arab Potash Company, and Nippon Jordan Fertilizer Company. While Canada depends primarily on its own domestic production of fertilizer, as well as heavy imports from Europe and the United States, there may be opportunities for imports from Jordan if fertilizer can be sourced at a more competitive price. At present, Canada does not import any fertilizer from Jordan.
4. Emerging Sector: Engineering and Architecture Sector
Jordan's engineering and architecture industries are considered high priority sectors for the country according to Jordan's National Export Strategy. The country faces numerous environmental and energy challenges and this sector is developing rapidly in response to these challenges. The Association of Energy Engineers and the Jordanian Engineers Association provide more details on the sector.
TFO Canada Export Offers
TFO Canada provides an information service for Canadian importers interested in sourcing products from developing and emerging economies such as Jordan. This includes practical advice on sourcing from developing country exporters, a customized news bulletin including new leads from Jordan as they come in, and a searchable database for sourcing new products and suppliers. The chart below provides a rough idea of the number of supplier profiles from Jordan, available online with contact information through TFO Canada's searchable Supplier Database.
| | |
| --- | --- |
| Industry Group | No. of Suppliers in TFO Database |
| Chemical | 2 |
| Personal Care, Pharmaceuticals and Natural Health Products | 4 |
| Medical Supplies | 1 |
| Clothing (not including Footwear) | 1 |
| Electronics, Electrical and Telecommunication | 1 |
| Food Products and Beverages (including Seafood) | 10 |
| Housewares and Hardware | 4 |
| Industrial Goods, Machinery, Parts and Raw Materials | 2 |
| Office and Other Professional Supplies | 1 |
Upcoming Trade Shows
JIMEX 2017
The 14th International Machines and Electro-Mechanical Exhibition
May 15-19, 2017
Electrical and industrial machinery, electricity, automation, electrical installation, energy, renewable energy, security, lighting, cables, electro-mechanical installation, contracting, consultancy, H VAC & R, water technology, environment techniques, gas applications, tools and industrial supplies.
http://jimex.weebly.com/store/c1/Featured_Products.html
SONEX 2017
Solar Near East Exhibition and Forum
May 15-18, 2017
Renewable energy, energy, electricity, automation and HVAC.
http://jordanfairs.com/index.php/buildprojects/sonex-2017
Spark Exhibition 2017
May 15-19, 2017
Electrical and Electronic Engineering Exhibition and Conference
Lighting, Electrical Installation, Security and Monitoring, Internet Techniques, Communication, Computer Engineering, BMS, Energy, Renewable Energy, Engineering Training and Education, Electrical and Electronic Software and Tools.
http://jordanfairs.com/index.php/buildprojects/spark-exhibition-2017/
Interbuild Jordan Fair 2017
August 21-24, 2017
Construction Technology, Building Industry, Architecture, Decoration, Marbles and Stones, Lighting and Installation Techniques.
http://jordanfairs.com/index.php/buildprojects/interbuild-jordan-fair-2017/
Stonejo Exhibition 2017
August 21-24, 2017
Stones, Marble & Granite Show. The 5th Jordanian International Exhibition for Stones, Marble, Granite for Technology and Trade.
http://stonejo.com/
Contact Information
Jordan's Embassy in Ottawa
100 Bronson Ave.
Ottawa, ON
Canada
K1R 6G8
Telephone: (613) 238-8090
Fax: (613) 232-3341
http://embassyofjordan.ca/eng/