Honduras – Country Profile
General Information
| | |
| --- | --- |
| Official Name | Republic of Honduras |
| Capital | Tegucigalpa |
| Total Area | 112,090 sq km |
| Population | 8.9 million (2016 est.) |
| Currency | 1 CAD =  17.56 HNL (Honduras Lempiras) (27/05/2014) |
| National Holiday | September 15 (Independence Day) |
| Language(s) | Spanish, Amerindian dialects |
| Largest Cities | Tegucigalpa (950,000), San Pedro Sula (850,000) |
Source: Economist Intelligence Unit, Bank of Canada (Daily Currency Converter 27/05/2016)
Political Information
| | |
| --- | --- |
| Type of State | Democratic Constitutional Republic |
| Head of State | President Juan Orlando Hernandez Alvarado |
| Elections | Last: November 2013, Next: 2017 |
Source: Economist Intelligence Unit
Economic Information
Honduras
Canada
GDP (PPP)
$53.94 billion
$2.15 billion
GDP per capita
$6,437
$59,909
GDP annual growth rate
3.6%
1.2%
GDP – composition by sector
Agriculture: 14%

Industry: 26.4%

Services: 59.7%

Agriculture: 1.6%

Industry: 28.9%

Services: 70.5%

Inflation rate
5.2%
0.96%
Main industries
Bananas, sugar, coffee, woven and knit apparel, wood products, and cigars.
Transportation equipment, chemicals, processed and unprocessed minerals, food products, wood and paper products, fish products, petroleum and natural gas.
Note: 2015 data in Canadian dollars ($CAD)
Source: IMF World Economic Outlook, World Bank Data, CIA World Factbook, Bank of Canada (Currency Conversion 27/05/2016)
Political and Economic Stability
Honduras is a lower middle-income country that has faced a high degree of challenges in political and economic stability relative to its Central American counterparts. In 2009, a political coup d'état forcefully removed the country's democratically-elected president from office. After several unsuccessful attempts to negotiate a peaceful solution, Canada was among the international diplomatic efforts that helped to restore democracy in January 2010. Efforts to normalize the political situation in years since have resulted in many noteworthy advances, including the reinstatement of Honduras into the Organization of American States, (OAS). In December 2013, Hondurans elected a new President, Juan Orlando Hernandez Alvarado.
The Honduran economy demonstrated strong export-led growth from 2007-2008 and has since been making moderate recovery from the global financial crisis, with growth rates between 2-4% during the 2010-2013 period and continuous growth of 3.6 % in 2015 and expected growth of 3.5% in 2016. Despite this growth, Honduras faces the highest level of economic inequality in Latin America The economy remains heavily dependent on traditional crops of bananas and coffee, making it vulnerable to external shocks such as commodity prices and natural disasters for example, the country lost nearly one third of its revenue in the past 2 decades due to externa; shocks. In recent years, the government has undertaken efforts to diversify the country's export base into other production areas, most notably apparels and electronics cables. The Honduras government introduced a tax reform in 2013 to reduce fiscal deficit and increase tax revenues and as a result, this 2014-2017 reform program improved terms of trade and increased remittances.  Honduras continues to face ongoing challenges of poverty, income inequality, and violent crime, which costs the country an estimated 10% of GDP per year. This high level of crime and violence, as well as state weakness and corruption have contributed to 174,000 Internally Displaced Persons (IDP) in Honduras as of 2015.
Security
Global Affairs Canada (GAC) recommends that Canadians exercise a high degree of caution when traveling in Honduras due to violent crime. While there is no national advisory in effect for Honduras, GAC advises against all travel to particular areas of the departments of Valle, Choluteca, and Olancho. The Public Health Agency of Canada has issued a Travel Health Notice due to the threat of the Zika virus infection recommending that special health precautions while travelling in affected countries. For detailed and up-to-date information on travel security, please refer to the GAC Travel Report for Honduras.
Trade Information
| | | | | | | |
| --- | --- | --- | --- | --- | --- | --- |
| Trade Partners & Direction | 2011 | 2012 | 2013 | 2014 | 2015 | Ave. Yearly Growth |
| Honduras Exports to the World | $29.1B | $40.5 B | $33.6 B | $44.2B | $49.2B | 16% |
| Honduras Exports to United States | $3.80 M | $3.94 M | $3.97 M | $4.35M | $5.18M | 21% |
| Honduras Exports to Canada | $262M | $275 M | $ 260M | $323M | $387M | 26% |
| Canadian Exports to Honduras | $39 M | $ 29M | $33M | $21M | $27M | 1% |
Note: data in Canadian dollars ($CAD)
Using HS4 codes 2015, excluding HS codes 26, 27 71-80
Source: Trade Data Online (Industry Canada), Trade Map (International Trade Centre), World Integrated Trade Solution (World Bank)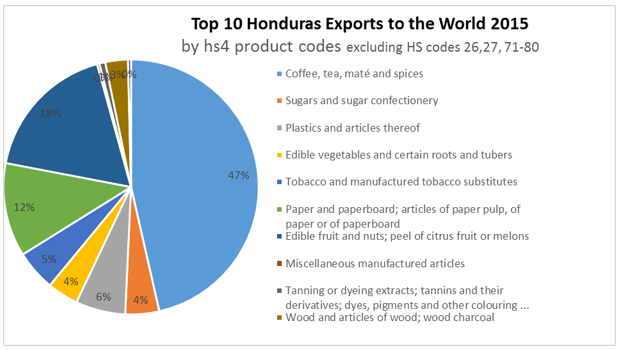 Excluding mineral products (HS2 Codes 26-27 and 71-80)
Source: International Trade Centre Trade Map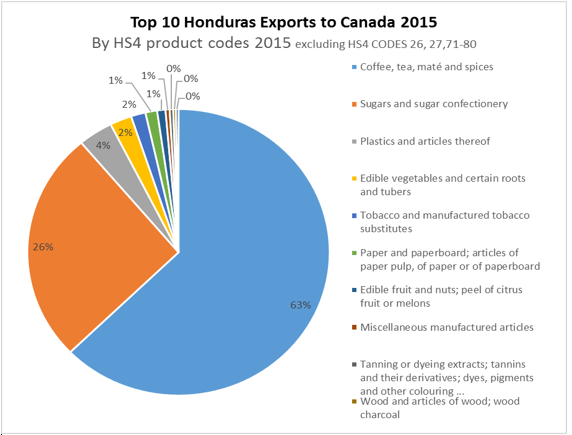 Excluding mineral products (HS2 Codes 26-27 and 71-80)
Source: Industry Canada Trade Data Online
Business Climate
The World Bank's annual Doing Business report ranks economies from 1 to 189 (with 1 being the best) on their ease of doing business. In the 2015 report, Honduras ranked 110 overall and 136 for Trading Across Borders, which measure the ease with which a standardized shipment of goods can be imported or exported across its borders. The average time to ship goods out of Honduras is much shorter than the regional average at approximately 12 days, with an average estimated cost of $USD 1,345 per 20-foot container. To complete the export process, five forms of documentation are required: Bill of lading, Commercial Invoice, Customs export declaration, foreign exchange authorization, and Packing list.
Honduras has eliminated quantitative restrictions, minimum import prices and import licenses regarding trade with the goal of smoothing the impact of the wide fluctuations in international prices on the domestic market. Additionally, Honduras has many programs which grant tariff and tax concessions, for example, the Temporary Import Procedure, the Free Trade Zones and the Industrial Export Processing Zones (not currently running). The general goal of these programs is to promote exports, attract investment and create employment. These are general programs, however Honduras also supports a number of sector-specific programs with similar goals such as, the Agricultural Export Zones.
Although there are many reputable exporters in Honduras, Canadian importers should be aware that corruption could be an issue when doing business in the country. Honduras ranked 112 out of 167 in Transparency International's 2015 Corruption Perceptions Index where 1st place indicates least corrupt.  Canadian companies are advised to exercise strict due diligence before working with a company from Honduras to ensure that it is a bona fide and reputable entity. It is suggested that Canadian importers commission a report by a credit information provider to verify the financial strength of the partner
Trade Opportunities
Transportation Hub of Central America
With its strategic location in the heart of Central America, Honduras is a key distribution centre, offering the lowest logistical costs in region. The Puerto Cortes port, located on the Caribbean coast, is Central America's largest and most efficient port. Honduras also offers five cargo airlines with international airports stationed in the cities of Tegucigalpa, San Pedro Sula, La Ceiba and Roatan. In 2014 Honduras was the 95th largest exporter and the 105th largest importer in the world. Also in 2014, Honduras exported 117 products with comparative advantage, (meaning that its share of global exports is larger than what would be expected from the size of its export economy and from the size of a product's global market).
New Trade Agreement, New Opportunities
The Canada-Honduras Free Trade Agreement which entered into the force on October 1 2014 offers a unique opportunity for Canadians businesses to tap into the wide array of industries that Honduras has to offer. While the country remains heavily dependent on the United States, which receives 54% of Honduran exports, Canadian imports from Honduras are on the rise at an average growth of 14% from 2009-2012. Bilateral merchandise trade between Canada and Honduras reached $289.75 million in 2014, which is an additional increase of 4% over 2013. Under the new trade agreement, trade between the two countries has substantially increased and the commercial relations have strengthened. Honduras is one of Canadas main focuses for international development assistance and receives Canada's largest bilateral development program in Central America. Canadian businesses and workers have benefited in many regions across the country particularly in the focus areas of agriculture, professional services, value added food processing and manufacturing, as well as commodity- and resource-based industries.
2015 marks Canada's 25th year as a full member of the Organization of American States (OAS). The OAS is a principal multilateral forum in the region which serves as a site for cooperation with hemispheric partners. Being a member of the OAS has allowed Canada to deepen its relations with Latin America and the Caribbean at various levels.
A Long History of Quality Agricultural Products
Honduras is among the top 10 world exporters of bananas and coffee, reflecting the country's long history in these two sectors. Coffee, which is Honduras' number one export, has experienced a growing demand in Canadian markets. Honduras is also the 5th largest exporter of bananas to Canada, with total export value reaching $910 million in 2014. The agricultural industry also plays a major role as a source of employment in Honduras and is therefore important to decrease unemployment and reduce poverty.
Honduras offers an array of other agricultural products in fresh fruits, vegetables, and increasingly fish/seafood. Top agricultural products include, coffee (47 percent), shrimps (21 percent), bananas (11 percent), melon (7 percent), lobsters (6 percent) and pineapples (3 percent). Honduras also sits among the top 10 producers of palm oil and is enjoying increasing sales of coconut oil from an increasing global awareness on the many benefits of this product. In 2015 Canadian top imports from Honduras consisted of insulated electronic conductors, knitted t-shirts and sweaters, bananas, melons, papayas, watermelons, and fresh, chilled or frozen fish.
High Growth Exports: Apparel, Sugar and Electronic Cables
Following efforts by the Honduran government to diversify its export dependence from commodity items, Honduras has become a major player on the international scene for apparel and garment. The country is now one of Canada's primary sources of woven and knit apparel from Latin America, with export sales reaching $46 million in 2015. Bilateral merchandise trade between Canada and Honduras reached $289.75 million in 2014
Two of the fastest emerging sectors for Canadian imports from Honduras have occurred in sugar and electronic cables. In 2013 there was a substantial boom in imports of sugar and sugar confectionary to Canada, increasing from a few thousand dollars in export sales to $8.4 million in a single year, in 2015 specifically raw sugar alone in Honduras had an export value of $74.3 million. Honduras has also become Canada's number one source for electronic cables in Latin America, Canadian imports of electrical cables from the country reached $59 million in 2015.
TFO Canada Export Offers
TFO Canada provides an information service for Canadian importers interested in sourcing products from developing and emerging economies such as Honduras. This includes practical advice on sourcing from developing country exporters, a customized news bulletin including new leads from Honduras as they come in, and a searchable database for sourcing new products and suppliers. The chart below provides a rough idea of the number of Honduran supplier profiles, available online with contact information through TFO Canada's searchable Supplier Database.
| | |
| --- | --- |
| Industry Group | No. of Suppliers in TFO Database |
| Food Products and Beverages (including Seafood) | 30 |
| Food Products and Beverages (including Seafood) | 26 |
| Fashion Accessories | 2 |
| Housewares and Hardware | 1 |
| Personal Care, Pharmaceuticals and Natural Health Products | 1 |
| Clothing (not including Footwear) | 1 |
Upcoming Trade Shows
Mega Beauty Show: the trade show
March 12-13, 2017
Expocentro, San Pedro Sula, Honduras
Industries: Beauty, Fashion/Clothes,
http://www.ntradeshows.com/mega-beauty-show/
Expojuniana|: the trade show
June 2017
Exporcentro, Barrio Las Brisas, San Pedro Sula, Honduras
Industries: Food, Furnishings, Leisure, Clothes, crafts, Furniture. Household appliances
Contact Information
Embassy of Honduras in Canada
151 Slater Street, Suite 805, Ottawa, ON, K1P5H3
Telephone: (613) 233-8900
Head of mission: Sofia Lastenia Cerrato Rodriguez, Ambassador
[email protected]
www.embassyhondurasa.ca
Honduran Consulate General in Montreal, Canada
1255 University Street, suite 500
Telephone: (+1) 514 439 7151
(+1) 514 451 9717
Email: [email protected]
Head of mission: Mr Hector Ramirez, Consul General
www.consuladohonduras.ca
FIDE Honduras
Investment and Export Promotion Agency6304
Colonia La Estancia, Tegucigalpa, Honduras
(504) 2221- 6304
[email protected]
www.hondurasinfo.hn
Useful Links
| | |
| --- | --- |
| Cámara de Comercio e Industrias de Copán (Chamber of Commerce and Industry in Copán) | www.camaracopan.com/site/index.php |
| Cámara de Commercio e Industria de Tegucigalpa (Chamber of Commerce and Industry in Tegucigalpa) | www.ccit.hn |
| Federación de Agroexportadores de Honduras (Agribusiness Federation of Honduras) | www.fpxhn.net |
| Secretaría de Agricultura y Ganadería (Ministry of Agriculture and Livestock) | www.sag.gob.hn |
| Secretaría en el Despacho de Relaciones Exteriores (External Relations Secretariat) | www.sre.hn |