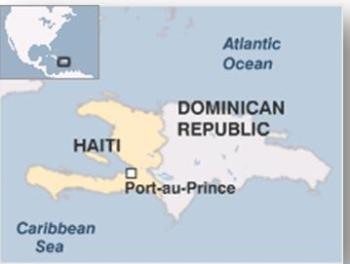 General Information
Official Name: Republic of Haiti
Capital: Port-au-Prince
Total Area: 27,750 sq km
Population (in thousands): 9,801
Currency: 1 CAD = 46.2149 Gourdes (HTG) (2017)
National Holiday: Independence Day, 1 January (1804)
Languages: Haitian Creole, French
Political Information
Form of State: Unitary semi-presidential republic
Head of State: President Jovenel Moise
Head of Government: Prime Minister Dr.Jack Guy Lafontant
Elections: November 2016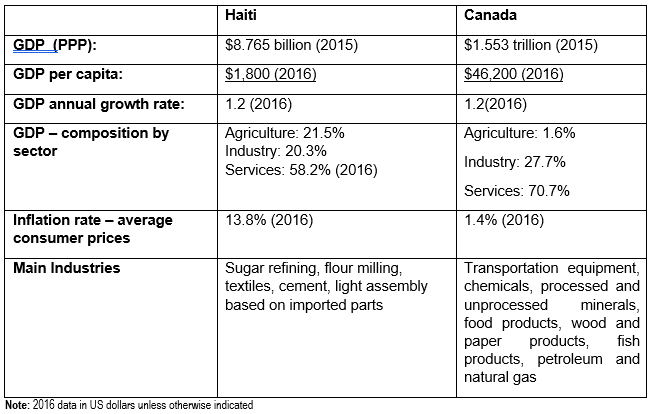 Political and Economic Stability
Haiti received its independence from France in 1804. Haiti's new President, Jovenel Moïse was elected on February 7 2017. The New Prime Minister and Cabinet were ratified by the Parliament. President Moise and his government have articulated a desire to pursue reform in energy and agriculture.
Two-fifths of Haiti economy depends on agricultural sector, such as small-scale subsistence farming. Consequently, the economic sector is vulnerable to frequent natural disasters, such as earthquake and Hurricane. Also, remittances are the primary source of foreign exchange, equivalent to more than one quarter of GDP, and nearly double the combined value of Haitian exports foreign direct investment. The annual GDP growth rate fluctuated from 2.9 percent to 1.2 percent.
More than 6 million out of 10.4 million (59%) Haitians live under the national poverty line of US$2.42 per day and over 2.5 million (24%) live under the national extreme poverty line of US$ 1.23 per day.
Security
Global Affairs Canada recommends that Canadians exercise caution when traveling in Haiti and that certain regions be avoided altogether due to the threat of high crime rates in various parts of the country and ongoing political tension. Therefore, Global Affairs Canada (GAC) advises caution in public spaces, especially in neighbourhoods of Martissant, Carrefour, Bel Air and Cité. For detailed and up-to-date information on travel security, please refer to the Government of Travel Report for Haiti.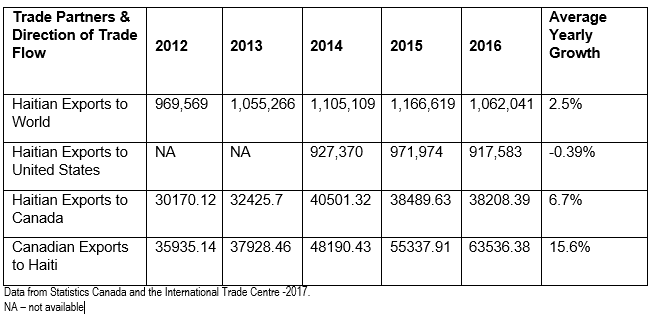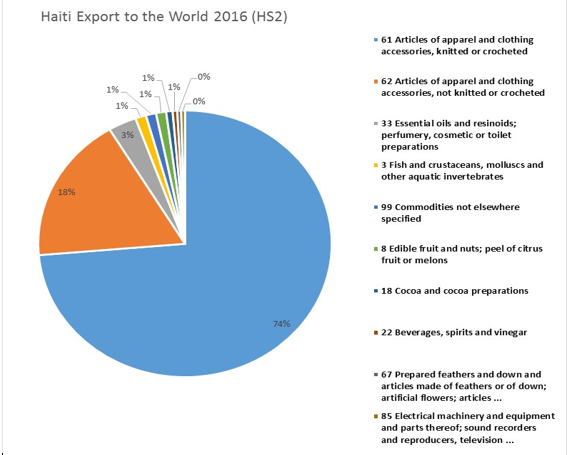 Note: excluding mineral products (HS2 Codes 26-27 and 71-80)
Source: International Trade Centre Trade Map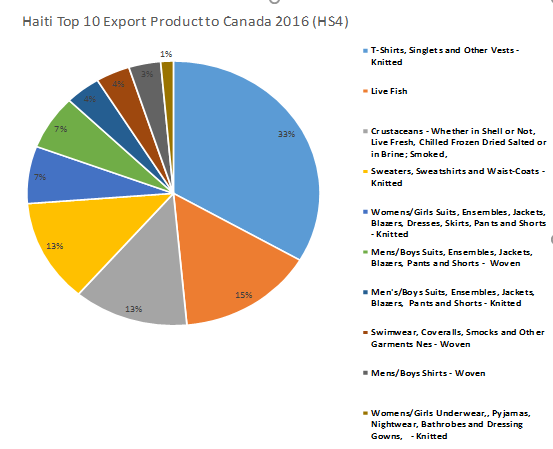 Note: excluding mineral products (HS2 Codes 26-27 and 71-80)
Source: International Trade Centre Trade Map
Business Climate
The World Bank's annual Doing Business report ranks economies from 1 to 189 (with 1 being the best) on their ease of doing business. In the 2016 report, Haiti ranked 181 overall and 76.69 for Trading Across Borders, which measures the ease with which a standardized shipment of goods can be imported or exported across its borders. The average time to ship goods out of Haiti much lower than the regional average at approximately 2 days, with a low average estimated cost of $CAD 106 per 20-foot container.
Haiti made trading across borders easier by improving port infrastructure and further implementing the ASYCUDA World electronic data interchange system by allowing the online submission of supporting documents. To complete the export process, only 7 forms of documentation are required: export declaration, bill of lading, commercial invoice, export authorization, packing list, tax certificate, Certificate of origin.
Although there are many reputable exporters in Haiti, Canadian importers should be aware that corruption could be an issue when doing business in the country. Haiti ranked 159 out of 176 in Transparency International's 2016 Corruption Perceptions Index where 1st place indicates least corrupt. Canadian companies are advised to exercise strict due diligence before working with a company from Haiti to ensure that it is a bona fide and reputable entity. It is suggested that Canadian importers commission a report by a credit information provider to verify the financial strength of the partner.
Sustainability Initiatives
Haiti is a State Party to the American Convention since September 27, 1977. Thus, Haiti is obligated to respect and guarantee all rights and freedoms recognized therein, without discrimination based on sex, among other conditions. Also, during the past and current years, international organizations, such as World Bank, have implemented several essential projects that aim to improve the economy in Haiti. For instance, World Bank proposes the Relaunching Agriculture: Strengthening Agriculture Public Services II Project-Additional Financing aims to increase market access to small producers and food security in selected areas in Haiti.
Corporate Social Responsibility
Environmental protections and decreasing the unemployment rates are important for the developing of Haiti. Caribbean Craft is the company in Haiti produces home decors by using recycled papers. The company was established in 1990 and it devotes itself to find and use ecological material for making recycled goods. Its long-term goal is to continue producing the diversity of art and opinions that are helpful to start business in the United States and Canada. Caribbean Crafts supports Haitian artisans with fair wages, health and accident insurance, a pension system and interest-free loans to meet their own needs when natural disasters occur, such as hurricanes.
Trade Opportunities
Haiti exports relatively little to Canada compared to the United States, where approximately 90% of Haitian exports are destined. Nonetheless, the fact that Haiti produces products highly complementary to those produced in Canada, and the geographic proximity of Canada and Haiti, make the two countries excellent trading partners. Furthermore, the large Haitian diaspora in Canada can provide Canadian importers with an additional means of obtaining information about Haitian producers and facilitate business between Canadian importers and Haitian exporters.
There are two international ports in Haiti; one situated in Cap-Haitien (in the North) and the other in Port-au-Prince.  Although the Port-au-Prince port was severely damaged during the January 2010 earthquake, it remains open and available for use.  Following the earthquake, imports and exports decreased; however, Haitian exports continued to leave the country via unaffected ports in other parts of the country as well as seaports in the neighbouring Dominican Republic.
1.Clothing and Apparel
Haiti's exports are highly concentrated in knitted clothing and apparel. From 2014 to 2016, the average annual Canadian import rate of apparel and clothing accessories, knitted or crocheted from Haiti decreased 2%. However, Haiti is one of the largest countries that export clothing accessories and apparel to the world. The average annual export rate of Haiti to the world averagely increases 3% regard apparel and clothing accessories from 2014 to 2016.
Primarily located in the industrial park in Port-au-Prince, several clothing and apparel factories were affected by the 2010 earthquake. Nevertheless, production in Haiti's garment industry has already rebounded and is currently producing at output levels close to its prior capacity. The key role that Haiti's garment industry has to play in thebuilding and rebuilding efforts of the Haitian economy has been widely recognized. In response, Haitian and international initiatives to resume the implementation of the pre-earthquake plan to expand the clothing and apparel industry are already well underway.
2.Seafood Products
Because of the geographic locations of Haiti, a second main export sector in Haiti to Canada is seafood products, particularly fish. However, the export of seafood products from Haiti to Canada has decreased averagely 19 percent from 2014 to 2016 because there were several natural disasters that occurred in Haiti in recent years. Consequently, the export of seafood products from Haiti to the world also has decreased averagely 9 percent from 2014 to 2016.
3. Emerging Sectors: arts and crafts and tourism
Beyond Haiti's staple exports, there remain several additional opportunity areas for the expansion of Canadian imports from Haiti. The unique and highly creative skill sets of Haitian artisans provide great potential for the expansion of imports of Haitian arts and crafts and other artisanal products, particularly home furnishings and decorative products.
Additionally, Haiti was once a popular tourist destination and there will be great potential to rebuild this industry in the near future. The country's rich traditional culture and beautiful beaches are only a small part of what this island nation has to offer.
Haiti is a recipient country under the Canadian Market Access Initiative, which allows goods from least developed countries to enter the Canadian Market duty and quota free.
TFO Export Offers
TFO Canada provides an information service for Canadian importers interested in sourcing products from developing and emerging economies, such as Haiti. This includes practical advice on sourcing from developing country exporters, a customized news bulletin including new leads from Haiti as they come in, and a searchable database for sourcing new products and suppliers. The chart below provides a rough idea of the number of supplier profiles from Haiti, available online with contact information through TFO Canada's searchable Supplier Database.
| | |
| --- | --- |
| Industry Group | No. of Suppliers in TFO Database |
| Clothing | 1 |
| Fashion | 2 |
| Food Products and Beverage | 4 |
| Industrial Goods, Machineary, Parts and Raw Materials | 1 |
Contact Information
Haitian-Canadian Chamber of Commerce and Industry
Tel.: 509 28 13 0773
Email: [email protected]
AmCham Haiti
18 Rue Moise (Behind the Kinam Hotel)
Petion-Ville, Haiti
Tel: (509)-2940-3024/2811-9092
Email: [email protected]
Jeune Chambre de Commerce Haitienne
6-3221 av Forest Hill
Montreal, Quebec, Canada
H3v 1C4
Phone: (514)383-7191
Email: [email protected]
Embassy of Haiti in Ottawa
85 Albert Street, Suite 1110
Ottawa, Ontario K1P 6A4
TEL (613) 238-1628
FAX (613) 238-2986
e-mail: [email protected]
Useful Links
Links to Cited Documents