General Information
| | |
| --- | --- |
| Official Name | Republic of Ghana |
| Capital | Accra |
| Land Area | 238, 533 sq km |
| Population | 26.3 million (2015) |
| Currency | 1 CAD =  2.97 Ghanaian cedis |
| National Holiday | March 6th (Independence Day) |
| Language(s) | English (official), Twi, Ewe, Fante, Ga, and Hausa |
| Largest Cities | Accra, Kumasi, Takoradi, and Tamale |
Source: Economic Intelligence Unit, Bank of Canada (Currency Conversion 01/06/2016)
Political Information
| | |
| --- | --- |
| Form of State | Unitary republic |
| Head of State | President Nana Akufo-Addo |
| Elections | December 2016, Next: November 2020 (every 4 years) |
Source: Economic Intelligence Unit
Economic Information
Ghana
Canada
GDP (PPP)
$144.90 billion (2015)
$2.082 trillion (2015 est.)
GDP per capita
$5,659 (est.)
$60,012
GDP annual growth rate
3.5% (2015)
3.34%
GDP – composition by sector
Agriculture: 20.7%

Industry: 27.7%

Services: 51.6%

Agriculture: 1.6%

Industry: 28.9%

Services: 70.5% (2015 est.)

Inflation rate – average consumer prices
10.2%
3.34%
Main industries
Mining, lumbering, light manufacturing, aluminum smelting, food processing, cement, small commercial ship building, and petroleum.
Transportation equipment, chemicals, processed and unprocessed minerals, food products, wood and paper products, fish products, petroleum and natural gas.
Note: 2016 data in Canadian dollars ($CAD)
Source: IMF World Economic Outlook, World Bank Data, CIA World Factbook, Bank of Canada (Currency Conversion 01/06/2016)
Political and Economic Stability
Ghana is considered to be one of the most stable, peaceful and democratic countries in Africa. The country has undergone six free and fair elections and three changes of government over the last 20 years and seen steady improvements in governance and public institutions. In the most recent elections, incumbent President John Mahama won a parliamentary majority with 50.7% of the vote. The country has made a giant stride towards democratic consolidation. Its judiciary has proved to be independent and has generally gained the trust of Ghanaians. The Ghanaian Parliament is vibrant as it has created the avenue for debate and vigorous legislative activity. According to the World Bank, Ghana is ranking among the top three in Africa for freedom of the press and freedom of speech. Nonetheless, Ghana's economic course over the past couple of years raises many concerns.
Ghana's economic growth slowed for the fourth consecutive year to an estimated 3.4% in 2015 from 4% in 2014 as energy rationing, high inflation, and ongoing fiscal consolidation weighed on economic activity. Other economic challenges include rising public debt and high inflation rate at 18.5% (absolute) in February 2016 compared to 17.7% in February 2015. Again, Ghana's overdependence on its three primary commodity exports of gold, cocoa and oil make the country vulnerable to external shocks. However, the country's stable political environment, fiscal consolidation program and a well-defined Trade Policy has put its back on track. Ghana's current account deficit narrowed to 7.8 % of GDP in 2015 from 9.6% of GDP in 2014.  Real gross domestic product (GDP) growth is projected to rebound to 5.2% in 2016 from 3.4% in 2015 reflecting the positive impact of a more stable energy supply and increased contribution from the oil and gas and agriculture industries. Energy supply is expected to improve following the emergency measures including the use of power barges. The country's medium-term growth prospect is strong with 8.2% in 2017 and moderating to 7.5% in 2018 under the assumption that fiscal adjustment remains on track with the support of the International Monetary Fund (IMF) and other development partners. Diversification away from its dependence on commodities, towards value addition on higher-level products through manufacturing and agro-food processing is also contributing to the growth. Ghana is working towards the country's long-term strategic vision of achieving middle income status by 2020.
As the first African country to receive development aid from Canada, Ghana and Canada enjoy strong relations based on more than five decades of diplomatic cooperation. The 2013 Global Market Action Plan (GMAP) designated Ghana as "an emerging market offering specific opportunities for Canadian companies." In 2013 alone, Ghana received visits from Canada's Governor General, Minister of Foreign Affairs, Trade and Development, and Minister of International Trade. In addition to partnering on a number of development and peacebuilding initiatives, Ghana and Canada have seen rapidly growing commercial relations, with bilateral trade increasing by 145.6% between 2000 and 2014.
Security
Global Affairs Canada (GAC) recommends that Canadians exercise a high degree of caution when traveling in Ghana due to petty crime and a risk of politically-fuelled tension in the lead-up to elections, particularly in Northern Ghana. There is no national advisory in effect for Ghana. For detailed and up-to-date information on travel security, please refer to the GAC Travel Report for Ghana.
Trade Information
Trade Information
| | | | | | | |
| --- | --- | --- | --- | --- | --- | --- |
| Trade Partners & Direction | 2011 | 2012 | 2013 | 2014 | 2015 | Ave. Yearly Growth |
| Ghana Exports to the World | $ 17,932 M | $ 15,752 M | $ 13,016 M | $ 14,649 M | $ 13,155 M | -7% |
| Ghana Exports to United States | $440 M | $297 M | $336 M | $345 M | M | -29% |
| Ghana Exports to Canada | $55 M | $20 M | $23 M | $24 M | $50 M | 16% |
| Canadian Exports to Ghana | $266 M | $216 M | $253 M | $157 M | $215 M | -1% |
Note: Data in millions of Canadian dollars ($CAD)
Source: Trade Data Online (Industry Canada), Trade Map (International Trade Centre), World Integrated Trade Solution (World Bank), United States Trade Representative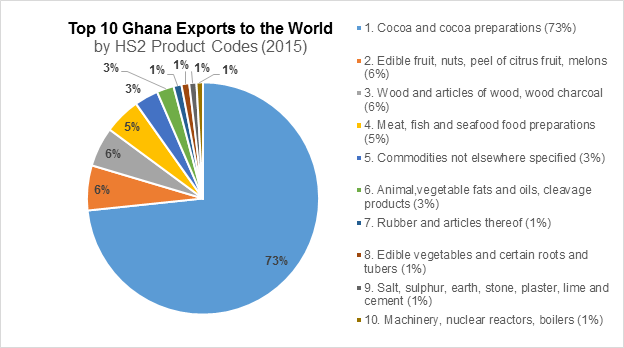 Excluding mineral products (HS2 Codes 26-27 and 71-80)
Source: International Trade Centre Trade Map
Excluding mineral products (HS2 Codes 26-27 and 71-80)
Source: Industry Canada Trade Data Online
Business Climate
The World Bank's annual Doing Business report ranks economies from 1 to 189 (with 1 being the best) on their ease of doing business. In the 2016 report, Ghana ranked 114 overall and 171 for Trading Across Borders, which measures the ease with which a standardized shipment of goods can be imported or exported across its borders. The average time to ship goods out of Ghana is the same as the regional average of 108 days, with an average estimated cost of $USD 725 per 20-foot container. To complete the export process, nine forms of documentation are required: Bill of lading, Cargo release order, Commercial invoice, Export Declaration, Export License, Non-traditional export form, Packing list, Quality Control Certificate, and Terminal handling receipt.
Although there are many reputable exporters in Ghana, Canadian importers should be aware that corruption could be an issue when doing business in the country. Ghana ranked 56th out of 168 countries in Transparency International's 2015 Corruption Perceptions Index where 1st place indicates least corrupt.  Canadian companies are advised to exercise strict due diligence before working with a company from Ghana to ensure that it is a bona fide and reputable entity. It is suggested that Canadian importers commission a report by a credit information provider to verify the financial strength of the partner.
Trade Opportunities
Ghana's economy remains heavily concentrated on the commodities of oil, gold and cocoa. Recent efforts to diversify the country's export base have seen impressive growth in fresh and processed foods, among other areas. In 2015, Ghana was Canada's 4th largest export partner in Sub-Saharan Africa. Main Canadian exports included cereals, vehicles and parts, machinery, and miscellaneous textiles. Main imports from Ghana included cocoa, wood, and vegetables products, fish, pearls and precious stones.
1. Agriculture & Food Processing
Agriculture accounts for approximately a third of Ghana's GDP and employs over half of its workforce. The country offers a range of agricultural products for export, including cereals, maize, rice, millet, yam, cassava, sweet potato, plantain and legumes. Ghanaian exports of fruits have seen unprecedented growth in recent years, primarily driven by the increased export of pineapples. Pineapple production in the country quadrupled in 2004 to reach records highs and remains an important area of agricultural growth. Commercial production of pineapples is concentrated in Southern parts of the country, which offer four main varieties in quantities for export: Smooth cayenne, Queen Victoria, MD2, and Sugar Loaf. Other major exports of fruit include Banana, Mango, Papaya Coconut and, more recently agro-processing of fruit juices.
Ghana's rich soil also offers a range of industrial crops including cocoa, rubber, sugarcane, cotton, palm oil, coconut and coffee. Cocoa crops have a long history in the country and today Ghana is the second largest cocoa-growing country in the world. Ghana is Canada's third largest source of cocoa and cocoa preparations from Africa, following Cote d'Ivoire and Nigeria. Worldwide, Ghana exported CAD $ 3.2 million worth of cocoa products in 2015. While exports remain concentrated in cocoa beans, the country is investing in value-added cocoa products including cocoa butter, fat and oil as well as food preparations that contain cocoa, such as chocolate.
In addition to fruit juices and cocoa products, the country has achieved high overall growth in processed and prepared foods including canned tuna, tomato paste, baby food, sweet biscuits and wine. Ghana also exports prepared and preserved tilapia and cat fish and is the fourth largest exporter of unshelled cashew nuts in the world.
2. Textiles, Wood & Floriculture
While exports remain relatively modest, Ghana has seen consistent growth in textiles led by cotton fabrics and raw lint cotton. The country's textiles are well known for their hand-woven quality, bright colours, and traditional designs, including the Kente cloth of the Ashanti and Ewe people. Ghana also exports a range of linens, bedspread, towels, curtains and carpets and is well known for its traditional handicrafts, including beaded jewellery and clay pottery.
Ghana is Canada's second largest source for wood products from Africa. Wood products exported to Canada in 2015. After cocoa, wood products of veneer sheets, plywood and lumber amounted to 9% of Canadian imports from the country in 2015. Floriculture is another developing export area with Ghana's climate boasting a number of exotic flowers, including heliconia, caribea, celosia, curcuma, gladioli, hibiscus, roses, ornamental palms and ferns. A number of medicinal plant varieties grow naturally in Ghana, and the country has been praised by ECOWAS for its stringent adherence to pharmaceutical inspection and enforcement procedures. Significant opportunities exist for Canadian companies across a range of sectors in Ghana.
Upcoming Trade Shows
Food, Beverages & Hospitality
December 05-07, 2017
Accra International Conference Centre, Accra, Ghana
Industry: Food & Beverage, Food Manufacturing & Processing
www.exhibitionsafrica.com/ems/contact-west-africa-west
Agriculture, Food, Beverage & Packaging Technology
December 05-07, 2017
Accra International Conference Centre, Accra, Ghana
Industry: Food & Beverage
Products: Alcoholic and non-alcoholic beverages, Biscuits, Catering packs, Cereals, Confectionary and sweets, Convenience foods, Dairy products, Desserts, Energy drinks, Frozen foods, Groceries, Liquid foods, Processed foods, Tinned, canned and dried foods.
www.agrofood-westafrica.com
Contact Information
High Commission of Ghana in Canada
1 Clemow Avenue, Ottawa, Ontario, K1S 2A9
(613) 236-0871
[email protected]
www.ghc-ca.com/index.html
Ghana Export Promotion Authority
Republic House Annex, Tudu, Accra
(+233) 302-689889 / 683153
[email protected]
www.gepaghana.org/index.php