Burkina Faso – Country Profile
General Information
| | |
| --- | --- |
| Official Name | République démocratique du Burkina Faso |
| Capital | Ouagadougou |
| Land Area | 274,122 sq km |
| Population | 17.8m (2013 estimate) |
| Currency | 1 CAD = 445 CFA franc BCEAO (Banque Centrale des États de l'Afrique) |
| National Holiday | August 5th (Independence Day) |
| Language(s) | French, Moré, Gurma, Fulfuldé, Tamasheq and others |
Source: Economic Intelligence Unit, Bank of Canada (Currency Conversion 17/06/2014)
Political Information
| | |
| --- | --- |
| Form of State | Unitary republic |
| Head of State | President Blaise Compaoré |
| Elections | Last: November 2010 (presidential) and December 2012 (legislative), Next: November 2015 (presidential) |
Source: Economic Intelligence Unit
Economic Information
| | | |
| --- | --- | --- |
| | Burkina Faso | Canada |
| GDP (PPP) | $13.3 billion | $1,668 billion |
| GDP per capita | $1,719 | $47,531 |
| GDP annual growth rate | 6.79% | 2.01% |
| GDP – composition by sector | Agriculture: 33.6%Industry: 23.6%Services: 42.8% | Agriculture: 1.7%Industry: 28.4%Services: 69.9% |
| Inflation rate – average consumer prices | 2% | 0.96% |
| Main industries | Cotton lint, beverages, agricultural processing, soap, cigarettes, textiles, and gold. | Transportation equipment, chemicals, processed and unprocessed minerals, food products, wood and paper products, fish products, petroleum and natural gas. |
Note: 2013 data estimates in Canadian dollars ($CAD)
Source: IMF World Economic Outlook, World Bank Data, CIA World Factbook, Bank of Canada (Currency Conversion 17/06/2014)
Political and Economic Stability
Following the appointment by President Blaise Compaoré of a new Prime Minister and ministerial cabinet in April 2011, extensive consultations were undertaken with a broad range of stakeholders to meet demands for better governance and shared economic growth. The government has since begun to implement a series of important reforms, including an ambitious infrastructure building programme and efforts to improve the business climate to be more favourable for investments. Political tensions were renewed in May 2013 with the controversial adoption of a law to create a senate and revise Article 37 of the country's constitution, which limits the president to two consecutive terms. While the government still intends to pursue this legislation, it has slowed progress to address major opposition from opposition parties and civil society.
Burkina Faso's economy relies predominantly on the performance of the cotton sector and, in recent years, the mining of gold. This makes the economy vulnerable to fluctuating commodity prices as well as the impact of climate change. Despite a drop in gold prices in 2013, Burkina Faso's economic growth remained strong at 6.9% growth in 2013 and is projected to grow 7.0% in 2014. Trade is of high importance for this landlocked country and recent reforms have seen an improvement in market conditions. Burkina Faso has pursued gradual yet successful privatization of state-owned enterprises since 1998 and revised its investment code in 2004, a move which has attracted increased foreign investment in the country. In accordance with various International Monetary Fund (IMF) programs in the country, Burkina Faso continues efforts to spend public money cautiously and preserve macroeconomic stability, keeping both inflation and public debt to 3% in 2013.
Security
The Department of Foreign Affairs, Trade and Development Canada (DFATD) recommends that Canadians exercise a high degree of caution when traveling in Burkina Faso due to the threat of crime and armed banditry. While there is no national advisory in effect for Burkina Faso, DFATD advises against all non-essential travel north of the Djibo-Dori line up to the Mali and Niger borders due to the threat of banditry and kidnapping. For detailed and up-to-date information on travel security, please refer to the DFATD Travel Report for Burkina Faso.
Trade Information
| | | | | | | |
| --- | --- | --- | --- | --- | --- | --- |
| Trade Partners & Direction | 2009 | 2010 | 2011 | 2012 | 2013 | Ave. Yearly Growth |
| Burkina Faso Exports to the World | 903,728 | 1,326,585 | 2,285,091 | 2,141,887 | 557,980 | 10% |
| Burkina Faso Exports to United States | 269 | 3,263 | 8,386 | 4,115 | 6,000 (est.) | 304% |
| Burkina Faso Exports to Canada | 13,454 | 22,802 | 5,235 | 7,692 | 387 | -14% |
| Canadian Exports to Burkina Faso | 41,204 | 30,800 | 50,205 | 66,626 | 50,727 | 12% |
Note: Data in thousands of Canadian dollars ($CAD). The large fluctuation in Burkina Faso exports to Canada has been driven by changes in export volumes of gold.
Source: Trade Data Online (Industry Canada), Trade Map (International Trade Centre), World Integrated Trade Solution (World Bank), United States Trade Representative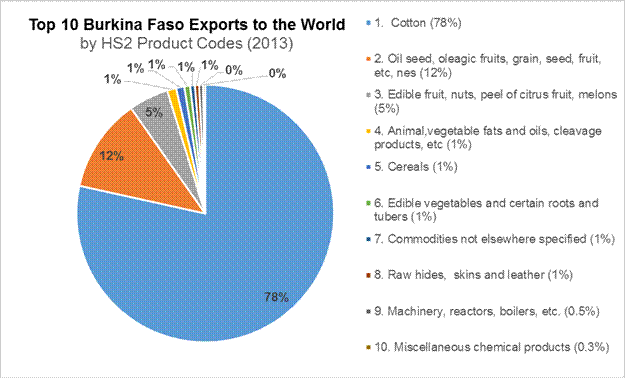 Excluding mineral products (HS2 Codes 26-27 and 71-80)
Source: International Trade Centre Trade Map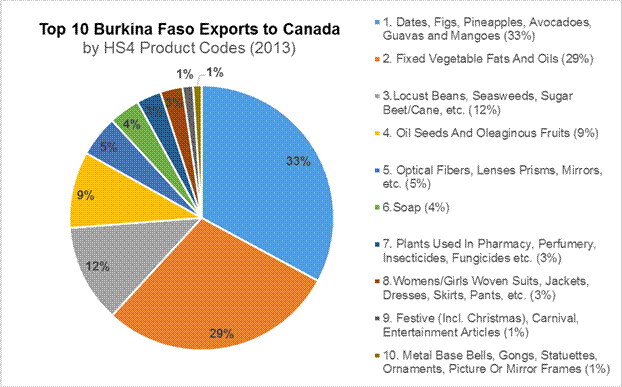 Excluding mineral products (HS2 Codes 26-27 and 71-80)
Source: Industry Canada Trade Data Online
Business Climate
The World Bank's annual Doing Business report ranks economies from 1 to 189 (with 1 being the best) on their ease of doing business. In the 2014 report, Burkina Faso ranked 154 overall and 174 for Trading Across Borders, which measures the ease with which a standardized shipment of goods can be imported or exported across its borders. The average time to ship goods out of Burkina Faso is higher than the regional average at approximately 41 days, with an average estimated cost of $USD 2,455 per 20-foot container. To complete the export process, ten forms of documentation are required: Bill of lading, Cargo release order, Certificate of origin, Commercial invoice, Customs export declaration, Foreign exchange authorization, packing list, T1, Technical standard/ health certificate, and Terminal handling receipts.
Although there are many reputable exporters in Burkina Faso, Canadian importers should be aware that corruption could be an issue when doing business in the country. Burkina Faso ranked 83 out of 140 in Transparency International's 2013 Corruption Perceptions Index where 1st place indicates least corrupt.  Canadian companies are advised to exercise strict due diligence before working with a company from Burkina Faso to ensure that it is a bona fide and reputable entity. It is suggested that Canadian importers commission a report by a credit information provider to verify the financial strength of the partner.
Sustainability Initiatives
Burkina Faso is among the top 10 worldwide producers of organic cotton in the world. Efforts towards the promotion of organic and fair trade cotton have been spearheaded since 2004 by the National Union of Cotton Producers of Burkina, focusing primarily in the communities of Po Tiéfora, Dano, Fada and Tenkodogo. With growing global demand for natural cosmetic products, Burkina Faso has also implemented a number of initiatives to promote organic and fair trade production of shea butter including projects by the FAO and Canadian organization CECI.
Trade Opportunities
Trade is of high importance to the economic growth of Burkina Faso. The landlocked country has experienced a mining boom in recent years, leading to significant foreign private investment by Canadian companies. In 2009 gold outpaced cotton as Burkina Faso's main export and now accounts for 20% of GDP. However, the global drop in gold prices of 2013 has tempered growth and exploration in the mining sector.
The value of trade between Canada and Burkina Faso expanded tremendously from 2009-2012, driven almost entirely by the importation of large quantities of gold which constituted 97-99% of Canadian imports during this period. However, lower prices drove down Canadian imports of gold from several million 2009-2012 to CAD $ 80,000 in 2013. Excluding gold, Canadian imports from Burkina Faso are modest but stable, consisting primarily of fresh produce, oils, and textile products.
1. Cotton & Textiles
The cotton manufacturing industry is one of Burkina Faso's largest, and cotton based household textiles, clothing and apparel are already one of Canada's main imports from the African country.  There remain great opportunities for Canadian businesses to expand their imports of high quality Burkinabe cotton products; most recently, Burkinabe cotton farmers have been shifting production towards organic cotton. Canadian businesses can also take advantage of an abundant supply of skilful and cheap labour by moving production to Burkina Faso.
2. Fresh & Processed Foods
Although the majority of Burkina Faso's farmers are engaged in subsistence farming, there are a handful of import opportunities for agricultural products from Burkina Faso. These include tropical fruits such as guavas mangoes, which saw a surge in exports to Canada in 2013, as well as sugar, peanuts, shea nuts and sesame seeds. Of greater interest is the wealth of processed agricultural products that Burkinabe producers have to offer North American markets. The food processing industry is concentrated in Bobo-Dioulasso and specializes in products such as dried tropical fruits and vegetables, jams and marmalades, molasses, pulp, syrups, non-alcoholic beverages and concentrates.
3. Shea Butter & Pharmaceuticals
Some of Burkina Faso's most popular exports are its shea butter based health and beauty products. These come in a variety of forms, including: soaps, lotions, creams, oils, body butters and lip balm. Recent innovations in the industry have allowed for the increased production of high quality products that meet North American safety and quality standards. There has been a shift across the country towards organic shea butter products, many of which are now certified by Ecocert Burkina Faso.
4. Jewellery, Handicrafts & Furniture
Burkina Faso has highly creative and talented artisans who can offer a number of arts and crafts products to Canadian importers. Handicrafts employ an estimated 960,000 people and account for 20% of the country's GDP. Unique to Burkina Faso is an art form know as Calabash; artists must be extremely talented, dexterous, and steady handed in order to create these delicate and highly intricate pieces of decorative art.  Burkinabe jewellery is crafted out of gold, bronze, silver, amber, and a variety of other materials.  Designs created are becoming increasingly refined and elegant and Burkinabe crafted jewellery has been growing in popularity in North America. With the use of increasingly developed tools and technology, Burkinabe craftsmen also create a variety of useful and decorative pottery and ceramic products. In recent years, many Burkinabe craftsmen have begun putting their talents towards the design and creation of high quality and unique home furnishings.  These products offer Canadian businesses the opportunity to bring something unique to their North American customers.
TFO Canada Export Offers
TFO Canada provides an information service for Canadian importers interested in sourcing products from developing and emerging economies such as Burkina Faso. This includes practical advice on sourcing from developing country exporters, a customized news bulletin including new leads from Burkina Faso as they come in, and a searchable database for sourcing new products and suppliers. The chart below provides a rough idea of the number of supplier profiles from Burkina Faso, available online with contact information through TFO Canada's searchable Supplier Database.
| | |
| --- | --- |
| Industry Group | No. of Suppliers in TFO Database |
| Personal Care, Pharmaceuticals and Natural Health Products | 1 |
Upcoming Trade Shows
Le Salon International de l'Artisanat d'Ouagadougou (SIAO)
October 31 – November 9, 2014
Ouagadougou, Burkina Faso
Industry: Arts & Handicrafts
www.siao.bf