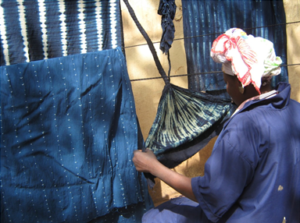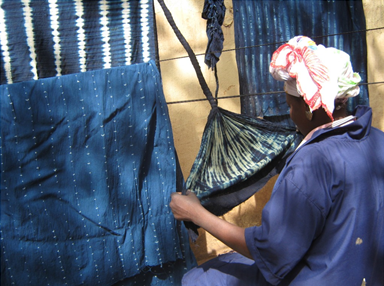 Djiguiyaso– which means "house of hope" in the Malian language Bambara-  is a cooperative  established in Mali in 2004. It specializes in textiles often made using traditional methods and environmentally friendly dyes, creating a product that is distinctly Malian. Aïssata Namoko is the founder of Djiguyaso and has worked in the sector for 60 years along with her family members. From the age of 6  she learned about Malian textiles from her mother who used to be a weaver. This intergenerational practice of textile production is essential for passing down traditional knowledge and led Aïssata to establish Djiguyaso. Diguyaso offers the world quintessential Malian textiles that are turned into homeware, home décor, apparel and accessories.
In 2004 the cooperative started out with 10 women, and now it works with over 100 local women and 24 men. Over the years Aïssata has provided training to women and men in her community on dying, spinning, cutting, sewing, crocheting, weaving, and product finishing.
"I was pushed by my passion for textiles and sewing; I learned these skills from my mother as a child. The most exciting thing about what I do is the dying process especially using indigo dye".
Indigo is a plant grown in Mali whose leaves are used to colour textiles. The leaves are plucked and dried for several days, then crushed into a powder. The powder is used as the primary ingredient in creating different hues of blues. The powder is mixed with water and sometimes potash (mined salts that contain potassium) is thrown into the mix  to create different variants of blue. This process takes approximately two weeks to one month to achieve the right colour mixture. "This method of dying and creating textile patterns have existed in Mali for over three thousand years, this really sets us apart from a lot of our competitors since we use traditional methods to create the finalized product."
Aïssata started to export globally with the support of TFO Canada. In 2007, TFO Canada staff connected with designers from Mali and 4 other countries for "Design Africa" and that's how Aïssata came to be part of the TFO Canada umbrella. That year, she attended a leading home décor trade show, Salon International de Décoration et d'Intérieur de Montréal (SIDIM).  "Design Africa" was funded by many donors and sponsors including the Canadian Government through the Program for Building African Capacity in Trade (PACT) and provided training on accessing the Canadian and foreign markets as well as support to attend SIDIM.  At the show she met many North American buyers such as Aid for Artisans and made plenty of sales. One big order came from a buyer in Europe for 800 large textile cloths. This changed the course of Djiguyaso and opened the door to the European market.  In 2010, Djiguyaso was recognized by UNESCO for its use of traditional techniques and its community development initiatives.
"This year has been a hard year for the handmade goods sector, but what I hope is to keep the cooperative moving forward. Through the cooperative, we've created a centre for youth, and we focus on training them in the crafts, dying, crocheting and sewing so they can take over in the future. Its important to keep passing down this traditional knowledge and methods of dying, its part of Malian history and culture. We want to motivate the youth, to be interested in the crafts, and promote Mali's tradition and artisan work all over the world.
We also built a water pit for the community so that women can have access to clean water.  We do our best to ensure that our members are being paid fair wages so they can raise their families and satisfy their needs. So much of this success is in part due to the partnerships we made in 2007 at the SIDIM show with the help of TFO Canada".