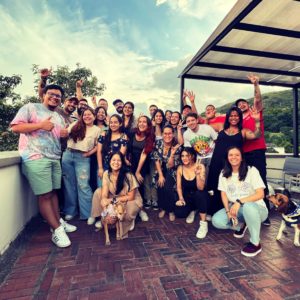 Mambo Studios is a Colombian creative services company that produces advertising for corporations, including animations, videos, graphics, motion graphics, and innovative services. The company shared updates on its recent success of exporting from Colombia, due to its work with TFO Canada.
The gender component is key and includes the goal of achieving 50% participation of women. The team in 2020 was composed of six people, increasing by 11 in 2021, and now reaching 32 employees, of which 17 are women. Of the top positions in the company, the project manager and the administration supervisor are women. This 50/50 participation percentage has remained stable, but with a large growth in the number of women. Also, 30 out of 32 are under the age of 26, as the company focuses on promoting young talent and gender equality, and 60% of the team comes from the most vulnerable populations in Colombia.
A key support that the company received through TFO Canada was the development of a market entry study (MES) in 2021 by a group of consultants from the Concordia University MBA program. According to Juan Manuel Duque, CEO of Mambo Studios, "this was one of the most enriching consultancy experiences I have received as an entrepreneur. The work of the two consultants was extremely detailed. I have rarely found people who understand our industry and business as they did. They managed to understand how the company could grow and established a strategy that would be successful, and they did it in a very complete and professional way, with an incredible understanding of the industry and our processes. The document generated has been an excellent guide for us to approach all our export business."
The results from the implementation of the strategy development of the market entry studies were undoubtedly beneficial. Mambo Studios has experienced unprecedented and sustained growth in its market activities. The company's sales increased by 67% as it exports 95% of its production value. Its main markets include the U.S. and Canada. Also, the company has diversified its markets, including new destination countries such as Portugal, the Netherlands, and the United Kingdom.
Mambo Studios is growing in the Canadian market and has increased its number of strategic partners in Canada from one to three. For example, the company recently worked with a multicultural content agency in Toronto on a commercial produced for Western Union in Colombia.
"For companies in general, it is key to invest in audiovisual content and invest in animation to explain how their products and services work, and how they are different," adds Duque. "Look at suppliers abroad, who are going to allow better returns and margins when contracting a project, not only because of price competitiveness but also because they are going to obtain excellent quality and response. For companies in my industry, I will always encourage them to export. The export of services is the key, which allows the competitiveness of companies in developing countries."
Duque strongly recommends that companies take advantage of the programs offered by TFO Canada. "Our company has benefited from two initiatives thanks to TFO Canada: the Gateway to Trade program was the opportunity to enter the Canadian market and start generating a portfolio and profitability in Canada, and the MBA program was the next step in terms of how we need to grow. I would always encourage people to connect and to take advantage of the available resources."
Duque also emphasizes that the Canadian market values multiculturalism, with content that is adaptable in English and French, and places importance on gender equity representation. Future projects are underway. "We are looking for end customers, as the company previously worked under an intermediation model through agencies" Duque says. "This strategy came after the recommendation of the consultancy with Concordia. Canada is one of the key target markets for 2023, and we are committed to maintaining a minimum 50% participation of women as part of the company's strategic objectives".
TFO Canada is pleased to see SMEs implementing the strategies developed under the MBA program with selected Canadian Universities. TFO Canada's is committed to gender equality and social inclusion through our work by creating sustainable business partnerships for exporters from developing countries.
We would like to thank Juan Manuel Duque for his commitment and sharing these experiences.