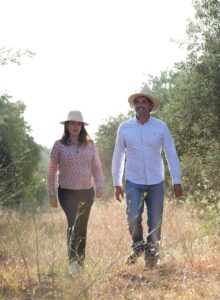 Ranch Tassaout was founded in 2015 by Yasmine and Youssef Benkabbou, a brother sister duo – who decided to realize their dream to produce the best of Moroccan olive oils while reviving the land and restoring biodiversity. In 2021, by adding value to their production, the brand of extra virgin olive oil under the name of Kalaa Organics was created.
In the foothills of the Atlas Mountains and on the bank of the Tassaout River, they planted their grove in the region of Kalaa des Sraghna, an old and renowned area in Morocco for olive production. By working in partnership with the local community, the olives are harvested by hand and pressed within hours under controlled temperature and humidity conditions. The company has an environmental commitment and aims to be a pioneering project in agroecology for sustainable agriculture. Olive trees are grown from regenerative agriculture to preserve natural resources and promote biodiversity. "We try to respect nature as much as possible on the field, by being organic and not using any chemicals, by encouraging biodiversity on the fields. Sustainability is at the heart of our project." explains Yasmine. Regenerative agriculture has become a key practice to preserve natural resources such as water and to increase the resilience of soils in the face of climate change. The building housing the olive mill was designed to reduce the ecological footprint emissions, by focusing on thermal insulation and rainwater harvesting, and by using local materials.
Last year, Ranch Tassaout was one of the SMEs in the processed food sector chosen to attend the SIAL Montreal trade show from April 20-23, 2022. In collaboration with ITC and trade support institution ASMEX, TFO Canada delivered one on-one coaching to 13 Moroccan SMEs in the processed food sector, including Ranch Tassaout, in preparation for the event. The training sessions were delivered virtually on Zoom and consisted of imparting knowledge on product pricing, packaging, client relations, and Canadian consumer preferences and standards. Once at the trade show, great opportunities ensued. "SIAL Montreal was a great event in 2022 We had the opportunity to meet new clients and develop new businesses. We're very thankful to TFO Canada and we're very happy with the experience," comments Yasmine. SIAL Montreal was a showcase to connect with Canadian importers and other international buyers. At SIAL, the company met with a woman owned/led Canadian importer based in Quebec who placed its first order for Kalaa Organics just after SIAL. This was the first exporting experience for Kaala Organics, providing new prospects to access the Canadian and North American markets, particularly in fine gourmet shops in Quebec, where the product has been sold. SIAL 2022 was an exceptional experience from a marketing perspective. As Yasmine indicated, "SIAL Montreal was our first experience of having a booth at an international trade show. We had to take pictures and prepare all the communication material for the booth, in both English and French. We had good preparation with TFO Canada on how competitive and dynamic the Canadian market is." Yasmine highlighted the support provided by TFO Canada before and during the trade show: "We received a lot of guidance and support from TFO Canada to contact, coordinate, and prepare for the meetings with potential clients." Kalaa Organics hopes to continue growing sustainably in the coming years by offering new products and accessing and consolidating its international market presence. As Yasmine mentioned, "we're clearly thinking about developing our presence in the Canadian market. We would like to grow and have our brand known in Europe, the US, and Canada. Our goal will be to bring Moroccan excellence to the world and maybe have more products we could offer, with excellent quality."
TFO Canada is pleased to see the implementation of strategies provided during training to SMEs, and to create and strengthen their capacity to access the Canadian and other international markets through trade fair participation. We are committed to gender equality through our work by creating sustainable business partnerships for exporters from developing countries. We would like to thank Yasmine Benkabbou, co-founder and managing partner, for sharing her experiences.